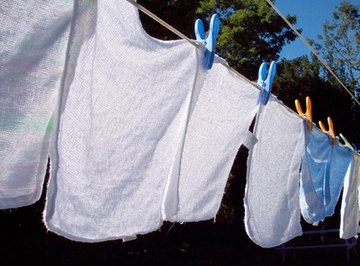 Both borax and Borateem are laundry-enhancing products that are added to a wash cycle. Both have whitening qualities and come in powdered form. Borax has been used as a laundry booster since the 19th century whereas Borateem is a specific brand made by the Dial Corporation.
Manufacturers
According to the Britannica Online Encyclopedia, sodium tetraborate decahydrate, more commonly known as borax, is a colorless, naturally-occurring crystalline mineral. Because borax is a naturally-occurring element, it is not a trademarked brand name. Borateem, on the other hand, is the trademarked name for Dial's powdered bleach product.
Ingredients
Dial states that Borateem is a "color-safe dry bleach." According to www.pesticideinfo.org, Borateem is 98.7 percent borax but also includes tribromsalan, a microbiocide, and sodium dodecylbenzene sulfonate, an insecticide. Borax does not contain other ingredients.
Uses
Borateem's main use is as a bleach product for laundry. Borax can be added to the laundry, and it is also used in glass and pottery glazes, fertilizers, soaps, mouthwashes, and in other industries. Because of its additional ingredients, Borateem cannot always be substituted for borax, but borax can usually be substituted for Borateem.
References
About the Author
When not working in her family-owned food and bar business, Viola Horne can almost always be found with a cookbook in one hand and a whisk in the other. Horne never tires of entertaining family and friends with both comfort food and unusual delicacies such as garlic cheese smashed potatoes and banana bacon pancakes.
Photo Credits