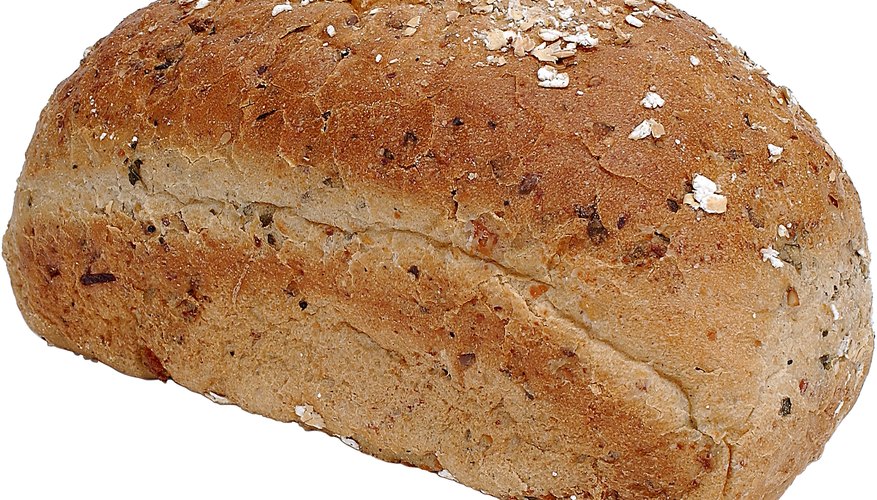 Of the tens of thousands of fungal species, bread mold is the most common. Bread molds are microscopic fungi that take food and nutrients from the bread they grow on. Molds grow on bread as filamentous, thread-like structures known as hyphae. The spores from dry bread molds float through the air until they find another suitable location to grow and reproduce.
Rhizopus
Fungi of the species Rhizopus stolonifer are one of the most common and fastest growing fungi in the phylum Zygomycota. The black bread mold, as it is more commonly known, also causes rotting of fruits and some infections of humans. This species of fungus dissolves the food it grows inside of, using extracellular enzymes, then it absorbs the nutrients for use by the mold.
Neurospora
The red bread mold Neurospora crassa is one of the most important fungal species used by biologists, second only to baker's yeast. In 1958 George Wells Beadle and Edward Lawrie Tatum used red bread mold in their experiments, which led to the "one-gene-one-enzyme" hypothesis and the awarding of the Nobel Prize in Physiology or Medicine to Beadle and Tatum. Since Beadle and Tatum, scientists have used red bread mold in their experiments concerning epigenetics, gene silencing, cell fusion, and circadian rhythms.
Penicillium
Fungi of the genus Penicillium, when growing on bread, appear as blue-green to gray fuzzy patches of colonies with white borders. Penicillium fungi grow well at low temperatures, so if you find mold growing on bread kept in the refrigerator, it is probably Penicillium. Apart from ruining your bread, Penicillium was the first mold found to produce antibiotics, and it is used by physicians to kill specific types of bacteria in the body. The mold growing on your bread, however, is probably a different species of Penicillium and should not be eaten as many people are allergic to it and can suffer severe reactions.