Weather comes in many different varieties, from frozen precipitation to thunderstorms. Depending on where you live in the United States, you may have the chance to experience many different and extreme weather conditions over the course of a calendar year.
Rain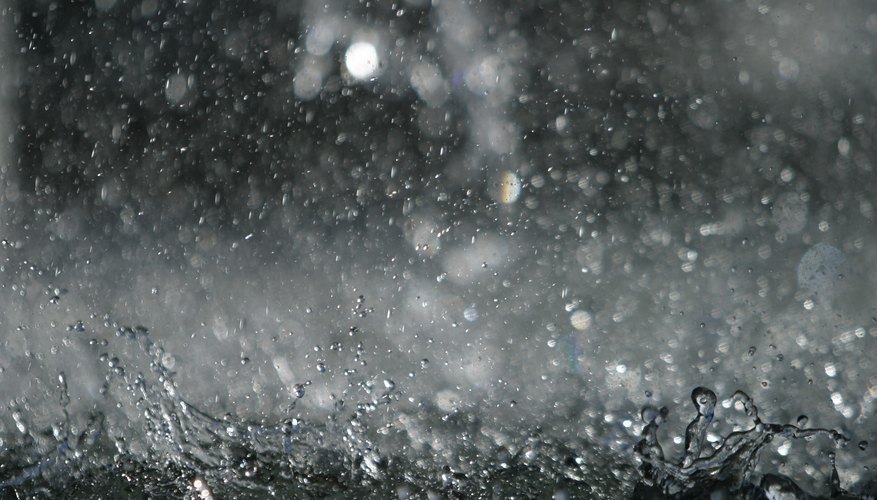 Rain is able to form when air that is full of water vapor becomes so saturated that the water droplets within clouds careen together to form larger and heavier droplets that eventually cannot defy gravity any longer and fall to the ground. Warm air tends to hold more water vapor than cold air and rain can happen when warm air rises and the water vapor within it becomes cooled and forms droplets. Rain can fall as rapidly as 18 miles an hour and the drops may be as large as a quarter inch in diameter. Heavy rains are capable of causing floods and flashfloods, overflowing river banks and narrow canyons.
Snow
In the winter, snow may form as water vapor changes to ice high up within the clouds in the atmosphere. This occurs when the temperature is below 32 degrees F. Snow falls as 6-sided snowflakes composed of ice crystals that develop around minute particles of dust and dirt carried into the air by the wind; once they grow large enough, gravity brings them down to the ground. A storm in which there is high wind, heavy snow and below-freezing temperatures is called a blizzard.
Frozen Precipitation
Two other types of winter weather conditions are sleet and freezing rain. Sleet occurs when raindrops freeze solid into pellets of ice that fall to the Earth, bouncing as they make contact with the ground. Freezing rain is a much more serious weather condition as it can bring down tree branches and power lines and turn roads into slick icy surfaces. Freezing rain falls as regular rain but when it falls onto a surface where the temperatures are below freezing, it causes the liquid rain to become ice wherever it lands.
Hurricanes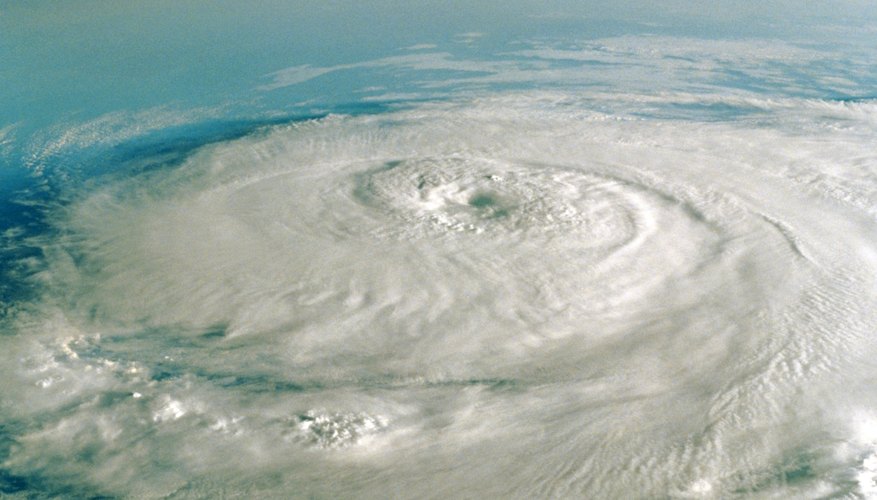 A hurricane can be as large as 600 miles in diameter and contain winds that have been known to reach 200 miles per hour. Hurricanes form over tropical waters north and south of the equator when warm air is rapidly forced up from the surface and then spun by the Earth's rotation. As a hurricane gains strength, it will move along over the sea, sometimes as fast as 20 miles an hour. Hurricanes that make landfall can cause destruction because of their heavy winds and the rain associated with the storm. There is also an accompanying surge of water as the hurricane pushes onto land.
Tornadoes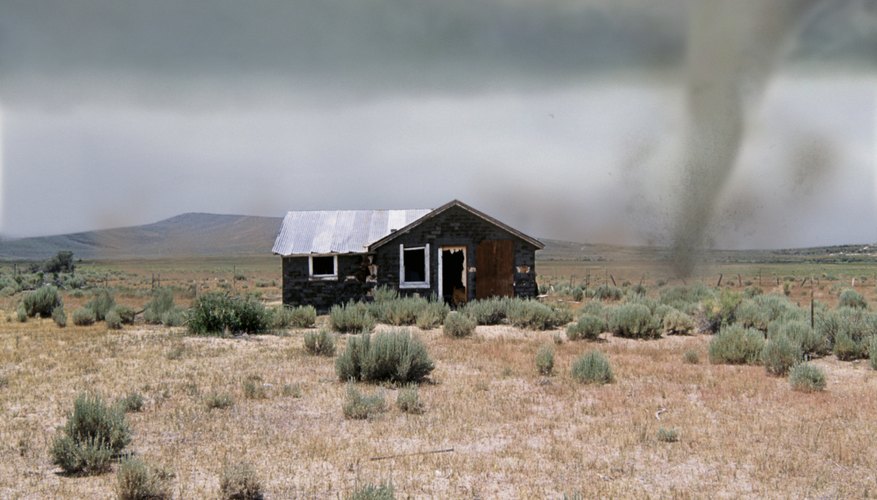 The most violent of weather conditions is the tornado, which is a powerful rotating air column that reaches down from a thunderstorm. The incredible winds in a tornado have been proven as strong as 300 miles an hour. The tornado brings destruction as it touches down and moves along the ground. This swath of destruction can be as wide as 1 mile and extends for long distances. Tornadoes are created during a thunderstorm when the atmospheric conditions are just right, creating a spinning column of air.
Thunderstorms
A thunderstorm forms when unstable air rises rapidly when it meets cooler air, high mountain peaks or breezes from the ocean. Clouds can become electrically charged as collisions between ice particles within them occur and discharge electricity to the ground in the form of lightning. Thunder follows lightning as the lightning bolt creates a void in the air that is filled so quickly by more air rushing in that it results in a loud wave of sound.