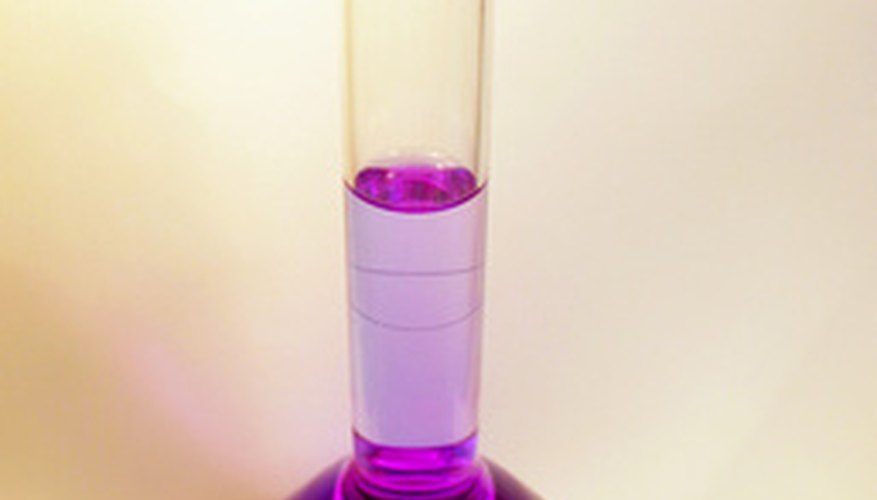 fiole de science image by Danielle Bonardelle from
Fotolia.com
A catalyst is a substance which alters the rate of a chemical reaction but is chemically unchanged at the end of the reaction. While most catalysts make the rate of chemical reactions go faster, some can slow down the chemical rate. Enzymes are biological catalysts and cars use a catalyst in pollution control in the exhaust system with catalytic converters. A catalyst can also make a chemical reaction possible that would not otherwise be.
Positive Catalysts
The majority of catalysts are "positive catalysts." Positive catalysts speed up chemical reactions. They are also referred to in science as "promoters."
Negative Catalyst
"Negative catalysts" slow down chemical reactions. These are used less commonly than positive catalysts. A negative catalyst is referred to as an "inhibitor."
Both negative and positive catalysts are used in very small amounts, as they are reusable.
For both positive and negative catalysts, when the reaction has finished, you would have exactly the same mass of catalyst as you had at the beginning.
How Catalysts Work
The reaction speed of a chemical compound depends on how fast collisions between the molecules occur, or how frequently the molecules collide. The catalyst, through adsorption, which causes the molecule to stick to the chemical of the catalyst, causes the speed of the chemical reaction to increase.
Some catalytic reactions occur by creating intermediate compounds from the primary molecule and the catalyst. Enzymes are catalysts that create intermediate compounds, studied in the field of microbiology. Some new compounds are very unstable. When an intermediate compound breaks down it releases the new compounds as well as the original catalyst.
Catalytic Converter
A catalytic converter is a commonly known term. If you have a car, you may have heard it from your mechanic. This is a pollution control device in the exhaust system of a car. The catalytic converter contains a chemical compound such as platinum, in very small amounts, which causes pollutant molecules to stick to the surface of the platinum, which cuts down on the amount of pollution released into the atmosphere.
Two Catalysts Working Together
Up until recently, scientists were only able to use one catalyst at a time in chemical reactions. Recently, however, scientists at Northwestern University have experimented with using two catalysts in tandem.
"Science Daily" quotes Karl A. Scheidt, the Irving M. Klotz Professor of Chemistry at Weinberg College, as saying, "Cooperative catalysis--using two catalysts instead of just one--will help us develop important compounds faster and with less waste. It also opens up an exciting new area of catalysis to explore."
Catalysts are a fascinating subject to explore in the field of chemistry.