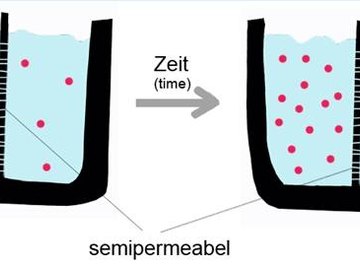 •••
This image shows diffusion across a semipermeable membrane
Diffusion
Diffusion is the movement of molecules from an area of high concentration to an area of low concentration through random motion. Given enough time, the concentration of molecules will eventually become even. Unlike some other chemical reactions, no catalyst is needed to start the process of diffusion, because of the internal energy of the individual molecules.
Molecules in Motion
Molecules are in constant motion, because of their internal energy. Internal energy is the random motion of atoms and molecules on a microscopic scale. A bathtub full of water may appear perfectly still, but all of the molecules within that water are moving at hundreds of feet per second. However, since the average internal energy of every type of molecule is different, diffusion happens at different rates of speed depending on the makeup of the substances.
Example
Imagine two different gases in a container, separated by a barrier. Carbon monoxide is on one side, and oxygen is on the other. Even though no movement is visible, molecules are constantly colliding with the barrier. When the barrier is removed, molecules from both gases will mix, moving from an area of high concentration to low concentration--carbon molecules will move to the side that was pure oxygen. Eventually, the entire container will be filled with one gas, in this case, carbon dioxide.
About the Author
This article was written by the CareerTrend team, copy edited and fact checked through a multi-point auditing system, in efforts to ensure our readers only receive the best information. To submit your questions or ideas, or to simply learn more about CareerTrend, contact us [here](http://careertrend.com/about-us).
Photo Credits
This image shows diffusion across a semipermeable membrane