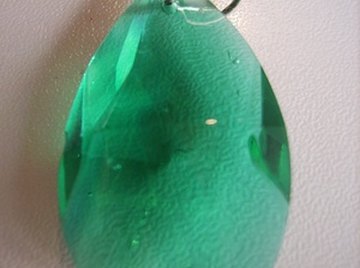 Emerald, the birthstone of May, is a member of the beryl family. Although other beryl gems are white, emeralds are known for their brilliant green color. The color comes from both chromium and vanadium impurities. Along with diamonds, rubies, and sapphires, emeralds are considered to be one of the more valuable and expensive of gems.
South America's Columbia, Brazil and Zambia are the world's major producers of emeralds, followed by Madagascar, Nigeria, and even, Pakistan. In the United States, there is only one mine in North Carolina that naturally produces emeralds for which you can dig, but you can also pan for them in Indiana.
Drive to the Copperhead Creek Mining Company, located in Nashville, Indiana, or to the Metamora Gem Mine located in Franklin County, Indiana. Both mines are approximately 60 miles from Indianapolis. Copperhead Creek Mining Company and the Metamora Gem Mine allow individuals to prospect for gems and jewels like the old-time prospectors who panned for gold during the California Gold Rush. Copperhead Creek is generally open from April to November, or as long as weather permits. Operations are open Monday through Friday from 10:00 a.m. until 5:00 p.m., and Saturday and Sunday from 10:00 a.m. until 6:00 p.m. Metamora is open year-round, Friday through Sunday from 10:00 a.m. until 7:00 p.m., except for major holidays.

Purchase a mining bag and sluice box from the rock shop when you arrive. The rock shops are open year-round. The companies offer various-sized bags of gemstones. Copper Creek Mining Company also offers bags of arrowheads and one filled with fossils. The gem bags include semi-precious and precious stones like amethysts, rubies, and emeralds.

Gather around the water sluice mine with your bag of gemstones. The water sluice mines each have a wooden trench that is attached to a water tower and it functions using gravity. Water flows down the man-made creek and separates the gems, fossils, and arrowheads from the sand, exposing your treasures.

Carefully dump some of the sand and dirt or mining rough into your sluice box and place it onto the wooden trench of the sluice mine. Let the water flow over the sand while you gently shake it and sift the mining rough around. Continue doing this until you see your treasures. Rinse them once again in the water and put them into a separate basket. Repeat this procedure until you have emptied the bag.
References
About the Author
Carrie Tuttle's writing career started in 2000. Her articles have been picked up by AP News and have appeared in the "New York Real Estate Journal." She holds a Bachelor of Arts in Spanish from Middlebury College and a Master of Business Administration from the University of Maryland's Smith School of Business. She is pursuing a graduate-level certificate in accounting from Saint Leo University.
Photo Credits