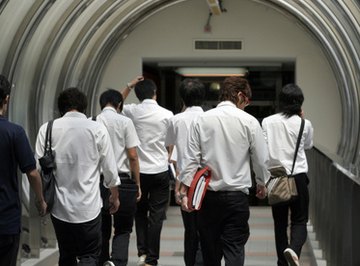 The diploid number is the number of chromosomes required for two complete copies of the organism's genome (the entirety of its genetic information). In animals, this is the number of chromosomes in most cells (gametes being an important exception).
Chromosomes
The DNA comprising the genome of a species is organized and packaged into complex structures called chromosomes. Eukaryotes characteristically possess multiple linear chromosomes.
Haploid Number
The number of chromosomes in a complete genome is known as the haploid number. Sexual reproduction involves an alternating process of haploid to diploid back to haploid cells.
Mitosis
Mitosis is the process of cell division that leads to daughter cell having the same number of chromosomes as the parent cell. A diploid parent cell produces two diploid daughter cells.
Meiosis
Meiosis is the process of cell division leading to the production of gametes. A diploid parent cell divides into four haploid daughter cells.
Fertilization
Fertilization of a haploid sperm cell with a haploid ovum produces a diploid zygote (fertilized egg). In humans, the egg and sperm each have a haploid number of 23 chromosomes. When a sperm fertilizes an egg, the resulting diploid zygote has 46 chromosomes (two sets of 23 chromosomes).
Polyploidy
Some eukaryotes possess more than two copies of their genome in their cells. These multiple copies are referred to as polyploidy.
About the Author
David Chandler has been a freelance writer since 2006 whose work has appeared in various print and online publications. A former reconnaissance Marine, he is an active hiker, diver, kayaker, sailor and angler. He has traveled extensively and holds a bachelor's degree from the University of South Florida where he was educated in international studies and microbiology.
Photo Credits