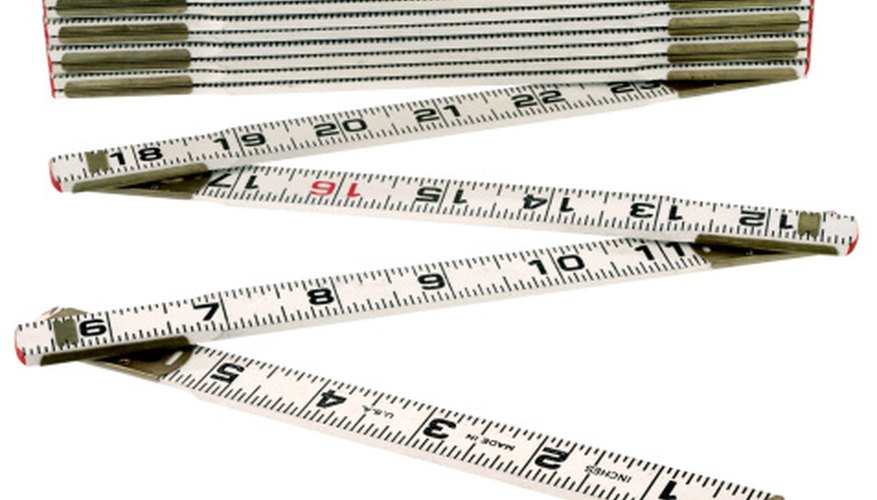 Brand X Pictures/Brand X Pictures/Getty Images
The English system of measurement was developed from parts of the body or from household items. Distances on the ground were measured with people's feet. Household items were used to measure volumes. For example, according to the Oswego City School District Regents Exam Prep Center, "The word 'gallon' comes from an old name for a pail." Using body parts meant different people, measuring the same thing, got different measurements. Eventually, measurements were standardized into the English system in use today.
Not Universal
In the past, most measuring was done by one craftsman that completed the entire project. In modern times, many parts are made in different places and then assembled in a different place yet. With this piecemeal and often global assembly, it is important to have accurate and universal measurements. According to The University of North Carolina at Chapel Hill, "All countries have adopted the metric system, including the U.S., and most countries (but not the U.S.) have taken steps to eliminate most uses of traditional measurements." The metric system of measurement is the system accepted worldwide, even though in some settings the English system of measurement is still used. Companies that choose to continue to manufacture items in English measurements may face restrictions on imports, says Cut Smart Engineering and Manufacturing. As a result, many companies have switched manufacturing standards to the metric system.
Arbitrary Unit Conversions
Conversion between units of the metric system of measurement are based on units of ten. There is no such relationship between units in the English measurement system. English unit conversions are based on seemingly arbitrary values. For example, one foot equals 12 inches; three feet equals one yard; 5,280 feet equals one mile; 1,760 yards equal one mile; 16 ounces equals one pound.
Inconsistent Definitions of Units
In spite of the development of measurement standards, one disadvantage of the English system of measurement is that units within the system can vary from country to country. According to Think-metric, a gallon in the United States is smaller in volume than a gallon in the United Kingdom. The United Kingdom gallon, which is called the Imperial gallon, holds exactly 10 lbs. of water under specific conditions. A ton in the United States is 2,000 lbs, while in the United Kingdom a ton is 2,240 lbs.
Standards Based on Metric System
Historically, legal English measurement standards were defined based on inanimate objects. According to Cut Smart Engineering and Manufacturing, in 1832, the Treasury Department defined a legal yard as "the distance between the lines 27 and 63 of a certain bronze bar, 82 inches in length, bought in 1813 in England for the Federal Survey Department." Today, legal definitions of English measuring units are based on metric units. For example, one yard equals exactly 0.9144 meter, and one lb. equals exactly 0.45359237 kilograms.