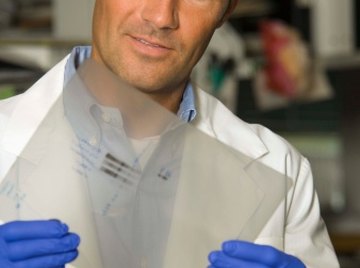 •••
Jupiterimages/Comstock/Getty Images
Western blotting is one of the most common procedures in biochemical labs. Basically, it separates proteins from a sample by size, then tests using antibodies to determine whether a given protein is present. It's useful not only in research but also in medical or diagnostic labs; tests for both HIV and Lyme disease, for example, involve an enzyme-linked immunosorbent assay (ELISA) test, followed by a Western blot if the ELISA tests positive. Despite its popularity, however, Western blotting has several disadvantages.
Nonquantitative
Classical Western blots are nonquantitative. In other words, while they can tell researchers whether a particular protein is present, they do not make it possible to quantify how much of the protein is present. Some biotech companies now sell kits that enable researchers or lab technicians to quantify the amount of protein present using a standard curve -- but this works only if pure samples of the same protein are available. Moreover, the molecular weight of a protein can only be estimated with Western blotting, rather than determined precisely as with mass spectrometry.
Antibodies
A Western blot can only be performed if primary antibodies against the protein of interest are available. While antibodies for many different proteins are available from biotech companies, they are not cheap; if primary antibodies are not available for a given protein, it will not be possible to perform a Western blot looking for that particular protein. Moreover, researchers may want to determine whether a protein has been modified in some way -- if it has been phosphorylated (had a phosphate group attached to it), for example -- and with the Western blot technique they need antibodies specific to the modified protein.
Training
It can be challenging to perform a Western blot properly and get good results, so staff must be well-trained. In this as in much else, experience is perhaps the best tutor; even for an experienced technician, however, a Western blot is time-consuming. The gel electrophoresis portion of the experiment, for example, will typically take from one to two hours to run. Other tasks can be performed while the gel is running, of course, but the experiment still takes quite some time to get results.
Other Limitations
Antibodies may sometimes exhibit some off-target binding, which can make for poorer results. Moreover, with Western blotting, you use an antibody against a specific protein, so your results will only tell you if that protein was present. High-resolution mass spectrometry, by contrast, reveals all the proteins present in a sample, and unlike classical Western blotting it is quantitative. It's important to remember, of course, that mass spectrometry is much more expensive and also more technically challenging to use compared to Western blotting.
References
About the Author
Based in San Diego, John Brennan has been writing about science and the environment since 2006. His articles have appeared in "Plenty," "San Diego Reader," "Santa Barbara Independent" and "East Bay Monthly." Brennan holds a Bachelor of Science in biology from the University of California, San Diego.
Photo Credits
Jupiterimages/Comstock/Getty Images