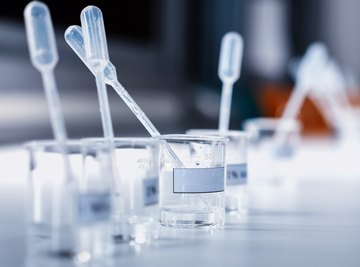 •••
AnuchaCheechang/iStock/GettyImages
Distilled water is the most chemically pure form of water, as well as being safe to drink. Made of mostly whole water molecules and very few free ions and used primarily in chemical experiments, distilled water is less reactive than other liquids used for dilution.
Distilled Water on pH Scale
Distilled water has a pH range of 5.6 to 7. The pH scale measures solutions from 0 (acidic) to 14 (alkaline). Acidic solutions have one extra electron that is unstable, whereas alkaline solutions need one electron to remain stable.
Effect of Carbon Dioxide on Acidity
Distilled water is often acidic because carbon dioxide in the air easily dissolves in the water. The carbonic acid made from the reaction breaks down into two unstable ions looking to make bonds. These qualities cause distilled water's acidic characteristics.
Can Distilled Water Reach Neutral pH?
Hypothetically, distilled water should always be at a neutral pH 7. Immediately upon being exposed to air, however, distilled water's pH decreases and becomes more acidic. Neutralizing distilled water is possible, but its neutral pH does not last.
References
About the Author
Kaitlin Ryan started writing and editing professionally in 2010. Her editorial and written work has been published in "Cake Central Magazine." She holds a Bachelor of Arts in English from University of Puget Sound.