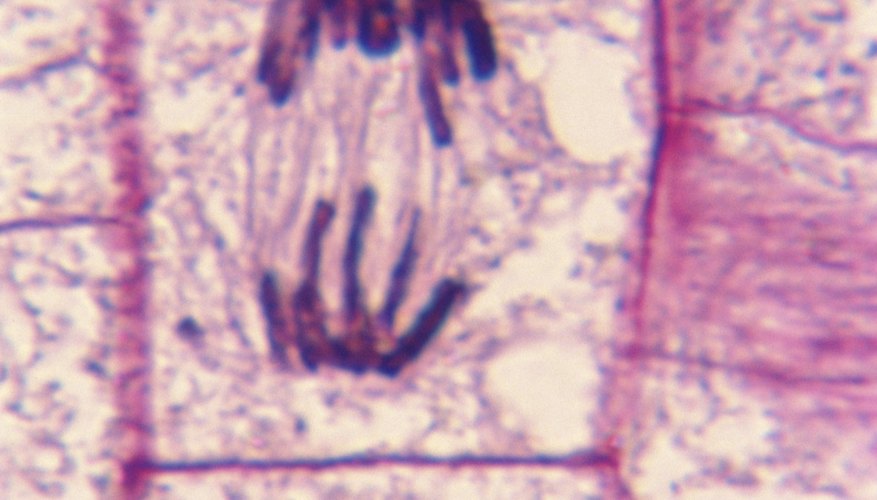 Jupiterimages/Photos.com/Getty Images
The DNA is condensed into visible chromosomes in the first phase of mitosis, known as prophase. All cells, whether plant or animal, undergo mitosis in order to make new cells. In order to ensure that the daughter cells contain the exact same genetic information as their progenitor, the DNA contained in the nucleus of the cell is duplicated just before mitosis begins. The process of mitosis consists of six distinct phases.
Prophase
Once cell division is triggered, the DNA inside the nucleus duplicates and the chromatin within the cells nucleus begins to condense. Prior to prophase, DNA is visible under a light microscope as a dark blur. Before prophase, a normal cell contains 23 pairs of chromosomes. After prophase, the cell contains 46 pairs of chromosomes -- two copies of each pair -- known as sister chromatids, joined at a centromere to form an X-shape. The nucleus wall begins to dissolve and the cells two centrioles, previously located near the nucleus, begin to migrate to opposite sides of the cells. Spindle fibers begin growing between the centrioles. Spindle fibers act like a clothesline on which the sister chromatids will hang.
Prometaphase
During this phase, the sister chromatids begin to attach to the spindle fibers. The chromosomes use the centromere to attach to the spindle fibers. The nucleus no longer exists and other cellular organelles have begun migrating to either side of the cell to supply the two new daughter cells with the necessary organs to function after division.
Metaphase
Metaphase is the most visually stunning phase of mitosis. At this point, the spindle fibers and all of the sister chromatids are clearly visible and lined up along the center of the cell.
Anaphase
The spindle fibers begin to shorten and pull apart the sister chromatids. The migration of the chromatids to either side of the cell ensures that each daughter cell will have only 23 chromosomes.
Telophase
Once the chromosomes have reached the centrioles, the chromosomes begin to relax into loose chromatin, the nucleus reforms and the spindle fibers dissolve. The cell then undergoes cytokinesis, where the cell wall begins to pinch in the middle forming two separate yet identical cells.