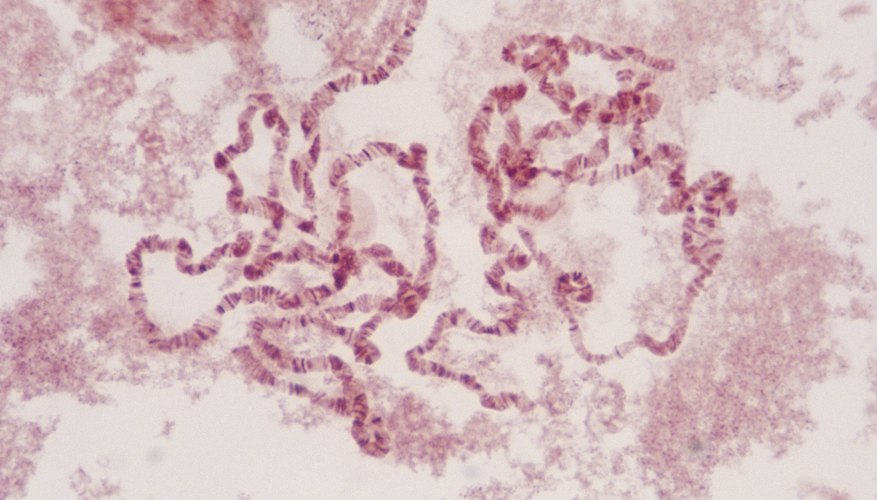 Comstock Images/Comstock/Getty Images
All forms of life require deoxyribonucleic acid, or DNA, to function. DNA is a long chain of molecules that contains the information necessary to build proteins. Every living cell contains DNA, but different forms of life store that DNA in different places within the cell. Multicellular organisms store DNA in regions called the nucleus and mitochondria, while single-celled forms of life store DNA in a region called the nucleoid.
Chromosomes
Each chain of DNA would be several meters long if it weren't efficiently packaged. In multicellular organisms, called eukaryotes, these packages of coiled DNA are called chromosomes and are the most basic organizational structure for storing DNA. Chromosomes are produced when DNA comes in contact with proteins called histones that cause the DNA molecules to wind into tightly packed coils. These coiled structures allow the DNA to be efficiently stored in the small spaces available within living cells.
Nucleus
Chromosomes are separated from the rest of the cell in eukaryotes by a porous membrane. That membrane creates an enclosed region called the nucleus. This nucleus protects the chromosomes stored inside and regulates which molecules are allowed in and out of the nucleus. This allows a cell to regulate what proteins the DNA activates and which proteins it should stop making, simply by controlling what molecules pass through the membrane. Most of an organism's DNA is stored in chromosomes inside the nucleus.
Mitochondria
Mitochondria are structures inside of a cell where chemical energy is generated from food. A small amount of DNA in eukaryotes, called mitochondrial DNA or mtDNA, is housed in the mitochondria.
Single-Celled Organisms
Prokaryotes are single-celled organisms that lack a nucleus. In prokaryotes, DNA is wound into circular structures and kept in a structure called the nucleoid. The nucleoid sits among all of the other contents of the cell without any membrane keeping it separate. The nucleoid also contains RNA that helps the DNA to produce other proteins. The circular DNA packages in single-celled organisms are not called chromosomes, but instead are called genophores because the DNA winds in a different pattern.