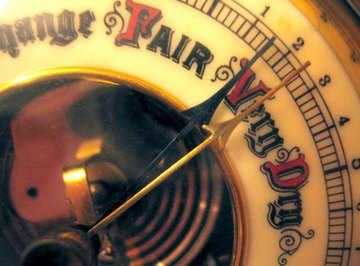 An aneroid barometer is an instrument that helps predict the weather. It can also be used to detect changes in altitude. To do this, it uses changes in air pressure. When air pressure is low, bad weather is more likely.
Features
Inside an aneroid barometer is a small capsule. This capsule has had the air pumped out of it. When the air pressure rises, the sides of the capsule are compressed. The capsule is attached to levers which move a needle as the air pressure squeezes the capsule. A dial behind the needle tells you the air pressure and altitude or weather forecast.
Benefits
Another common variety of barometer is a mercury barometer. The aneroid barometer is superior in some ways to this. Mercury is poisonous, so a mercury barometer requires special handling. An aneroid barometer has the added advantages of being smaller and lighter and easier to move safely. This means that one can be carried in a car or on a ship.
Considerations
An aneroid barometer is not as accurate as a mercury barometer. It is good for situations where a general idea of the altitude or impending weather is needed, but where a mercury barometer would be unsafe. For professional weather forecasting, however, a mercury barometer is better.
References
About the Author
Clare Edwards has been providing Internet content since 1998. She has written and translated for a variety of markets: everything from technical articles to short fiction and essays on alternative spirituality. She holds a certificate of higher education in electronics and audio arts from Middlesex University.
Photo Credits