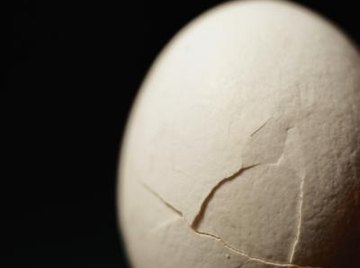 •••
Photodisc/Photodisc/Getty Images
Energy and Shock
When wrapped tightly around an egg or other fragile item in a container, cotton balls can help keep the egg from breaking as easily when dropped or shaken. This is because the cotton balls act as a form of shock absorber.
Cushioning
Shock absorbers are any devices that absorb the energy from an impact, whether it's a strike or a fall (hitting the ground). Cotton balls are a type of cushion, which means they absorb the energy. The force of the strike is transferred to the porous, flexible material of the cotton fibers. These fibers respond to the transference of strike energy by flexing and returning to their original shape, unlike the brittle egg shell, which can only respond to concentrated force by shattering.
Immobilization
The other function of cotton cushioning (and other similar packaging) is to render the egg immobile; this is why cotton balls will more effectively protect an egg when they are tightly packed around it inside a rigid container, preventing any impact strikes between the walls and the shell.
If immobilization packing is too dense, however, it limits the power of the cotton to cushion. This is because the cotton fibers need empty space in which to flex in order to respond to the energy they absorb.
Limits
The cushioning power of cotton to protect an egg is limited. When the force of an impact is greater than the amount of energy the cotton fibers can absorb, the remaining impact energy will be transferred to the egg. This effect can be combated by increasing the number of cotton balls and the size of the container; the more cotton there is, the more energy is absorbed.
References
"Shock Absorber"; Encyclopedia Brittanica On-Line; accessed September 29th, 2009
About the Author
Lauren Vork has been a writer for 20 years, writing both fiction and nonfiction. Her work has appeared in "The Lovelorn" online magazine and thecvstore.net. Vork holds a bachelor's degree in music performance from St. Olaf College.
Photo Credits
Photodisc/Photodisc/Getty Images