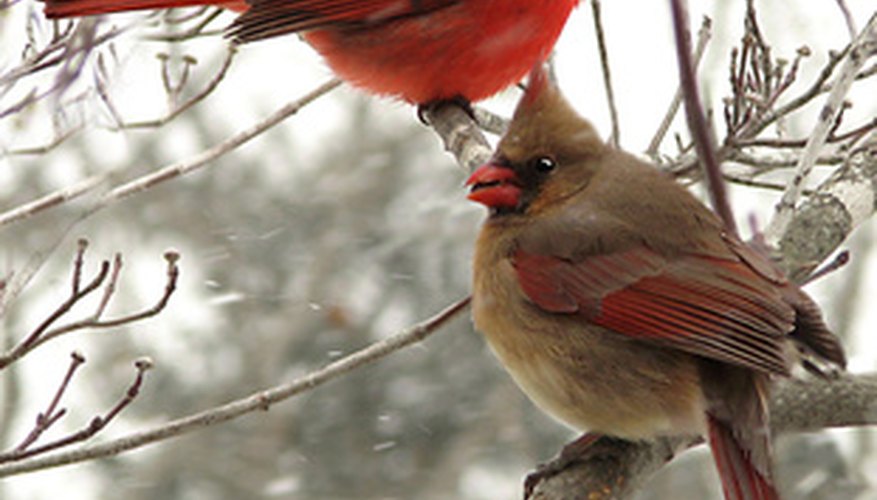 Cardinals are one of the most easily recognized bird in North America. The male is a bright red with a black "face," while the brownish female has an obvious red beak and reddish highlights. As seed eaters, Northern Cardinals are also frequent bird feeder visitors. Perhaps this is why the male's tendency to feed his mate has been noticed and well-documented.
Northern Cardinal Facts
Cardinals have many characteristics which make them unique among birds. Both the male and female sing, unlike most songbirds where only the male sings. Cardinals also don't migrate, so if you have them in your part of the country you can attract them to your feeder year-round. After the young hatch from their eggs, the male is the one responsible for their feeding and caring.
Breeding
Cardinals generally have three or four eggs in each clutch, and breeding season is usually during April and May. Some pairs may have two or three clutches each year, and they are monogamous during the breeding season. After the clutch is laid, the female incubates them for about 12 days. The hatched young, born naked and helpless, fledge after 10 days. The male continues to care for newly-fledged young.
History of Mate Feeding
"Mate feeding" is actually a common occurrence in bird species. Raptors, such as the European Kestrel, as well as songbirds practice this ritual. In cardinals, it is seen both before mating and while the female is incubating her clutch of eggs. No one knows for sure why this ritual takes place, but there are several schools of thought.
Mate Feeding As Ritual
When mate feeding occurs prior to egg-laying, it's possible that the extra nutrition helps the female when it's time to lay her eggs. Another theory is that it may increase the likelihood that the female will mate with the male–a form of courtship. Females may also judge the parenting ability of the prospective mate by how well he provides for her.
Mate Feeding After Egg-Laying
When mate feeding happens during the incubation period, it may also serve to help with pair-bonding. This can be important to keep the pair together during the short breeding season. Additionally, it may allow the female to remain on the eggs longer than if she had to constantly forage for food.