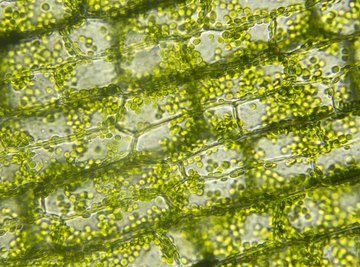 •••
Videologia/iStock/GettyImages
Definition
Elodea is a water plant native to Canada, often used in aquariums. It is also often used in biology labs on cell structure because it forms nice, large cells that are easily observed under the microscope. Chloroplasts are the organelles in a plant cell that contain the chlorophyll plants use to convert light into sugars.
Movement of Chloroplasts
Chloroplasts do move in a cell. Observing chloroplasts in movement in an elodea cell is like watching a busy, bustling mass of pedestrians from a building high above. They jostle and slide and scoot around the cell, often sticking near the edges of the cell but sometimes seeming to fill the cell entirely with constant motion. The motion is common to the interior of cells and is called cyclonic or cytoplasmic streaming. This current in motion occurs in the contained liquids of the cell. The actual cause of the motion isn't yet clear, but it does alter with heat and light and is changed by increases and decreases in fluid content.
More About Chloroplast Motion
Chloroplasts in plants have been found to display another form of motion, called chloroplast avoidance motion. It appears to be a response to light intensity. In extreme light exposure, the chloroplasts line up like the blades of a Venetian blind to let the light pass through. On dim, dark days, they flip their alignment, like the Venetian blind closing, to catch what light is present. This appears to be a method of adjusting the amount of damage to the plant by sunlight.
References
About the Author
Peg Robinson's first sale was in Pocket Books' 1999 "Strange New Worlds." Her credits include award-winning "Helixsf," and "Cicada Magazine." Her novela, "Tonino and the Incubus," qualified for the 2007 Nebulas. She graduated with honors in religious studies from UCSB. She's currently in an M.A./Ph.D. program in mythological studies at Pacifica Graduate Institute.