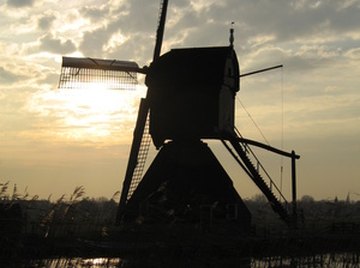 Since ancient times, windmills have been used, primarily as a method of grinding grain into flour by using the power of the wind. The original windmills, used in Persia in the 9th century, were vertical-axis mills, but modern windmills use a horizontal axis, in which the blades are fixed to a central post, which is more efficient.
Blades
The blades of the windmill--of which there can be four, five, six or eight--are angled rather like the propeller of an airplane so as to catch the wind, which turns them. A tail fan automatically maneuvers the blades into the direction of the wind. The blades are connected to a drive shaft inside the windmill.
Millstones
The drive shaft has a gear wheel connected to other gears within the wooden hursting frame, which houses the millstones. One millstone is fixed in position and the other is caused to rotate when the drive shaft rotates.
Grain
The grain is poured through a hole in the revolving millstone and the motion grinds it into flour. As more grain is added, the flour is forced out off the side of the millstone, where it falls down a chute and can be collected in sacks.