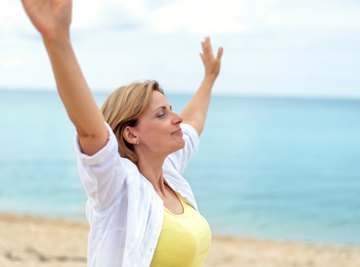 •••
bluecinema/E+/GettyImages
Air can be found all around us – literally. The term, sometimes used interchangeably with the word "atmosphere," refers to the invisible mixture of gases that surrounds the planet Earth. Air contains substances like oxygen and nitrogen that most forms of life on the planet require to survive, making it a crucial natural resource. Many applications exist for air, beyond its uses in biological processes. However, it is often taken for granted by humans, despite its importance.
TL;DR (Too Long; Didn't Read)
TL;DR (Too Long; Didn't Read)
Humans have found many uses of air, but above all else air is required for human bodies, as well as those of most other forms of life on Earth, to function. Air pulled into lungs oxygenates the blood, allowing cells to power themselves through cellular respiration. Air harnessed through wind turbines generates electricity, and it is required for the fuel combustion processes that power factories, power plants, and cars. As a result of air pollution, air has also been sold as a luxury item in certain areas.
Biological Uses of Air
Most forms of life on Earth require air to sustain themselves. While not every element in the air is required for life, oxygen and nitrogen in particular are used by most animals to fuel their cells. Air is pulled into the body by lungs and used to fill tiny air sacs that allow blood cells to pick up oxygen, which is then distributed across the body's cells. Through the process of cellular respiration, this oxygen can then be used to break down sugars and create energy. In addition, humans have found ways to pressurize air, allowing people to combat the elevation sickness experienced when moving into high-elevation areas.
Power Generation and Mechanics
Air is crucial to the generation of electrical power. Not only is oxygen present in air required for combustion – the process that allows fires to form, and as a result powers most fuel-burning generators, machines and vehicles – but air can be used to create power directly. Wind, when passed through a large turbine, can be used to generate electricity. At the same time, some sensitive mechanical drive systems use pressurized air to move machinery. It should be noted, however, that air pollution is a direct result of many of these uses for air: Despite the crucial, life-supporting role of air in our life, it is often taken for granted. Because it is invisible and surrounds the planet, many companies and factories pay little attention to how pollution affects air quality. Efforts to address this have inspired many an essay about the importance of air, penned by scientists, politicians and concerned citizens.
Air as Commodity
As a result of air pollution and a decrease in air quality, particularly in countries like China, Russia and the United States, some people have found ways to sell air as a luxury item. Many people visit oxygen bars to consume flavored, purified and pressurized air, and a cottage industry has formed around the sale of "premium" air from pleasant areas, which is sold to people in areas of poor air quality as a method of improving mood, health or productivity.
References
About the Author
Blake Flournoy is a writer, reporter, and researcher based out of Baltimore, MD. Working independently and alongside professors at Goucher College, they have produced and taught a number of educational programs and workshops for high school and college students in the Baltimore area, finding new ways to connect students to biology, psychology, and statistics. They have never seen Seinfeld and are deathly scared of wasps.