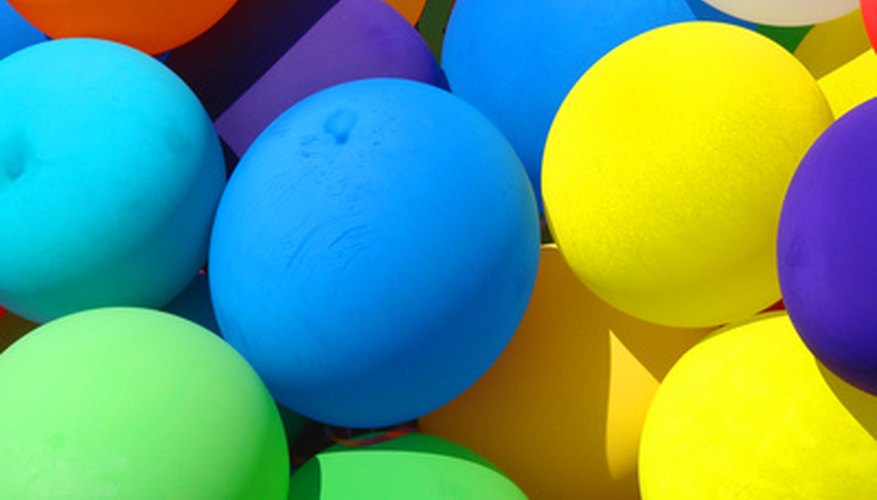 Balloons are inflatable envelopes full of air. Like all other gases, the volume and pressure of a given mass of air varies with temperature. When you place a balloon in a hot car, the temperature of the air in the balloon increases.
Features
Kinetic energy is energy of motion. Temperature measures the average kinetic energy of molecules or atoms in a substance. In solids, atoms and molecules vibrate in place, but in a gas molecules are flying in all directions. As they collide with other objects they exert force; this force is felt as pressure. The air in your balloon exerts pressure on the walls, and the air in the car exerts pressure on the balloon walls as well.
Function
The ideal gas law is a good approximation for most gases composed of small molecules that experience weak intermolecular forces. The law describes an ideal gas using the following equation: PV = nRT, where P is pressure, V is volume, n is the number of moles of gas, R is a constant and T is temperature. When your balloon is resting in the back seat of a hot car, the temperature of the air inside is gradually increasing. When one side of the equation (T) increases, the other side must increase also, so the product of pressure x volume is increasing.
Effects
As the pressure inside the balloon increases, the air inside exerts more force on the walls and they expand to accommodate the expanding air. Eventually the expansion is such that the walls of the balloon are stretched too thin and the balloon pops.