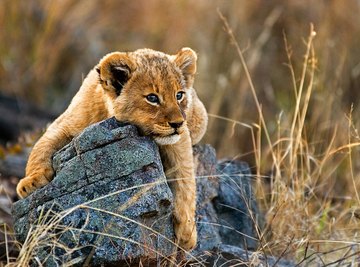 •••
Londolozi Images/Mint Images/Mint Images RF/GettyImages
A dichotomous key sounds a little like something you might encounter in the world of musical composition, but in fact it is a very useful tool to help clearly identify organisms in the natural world. In fact, species identification is arguably the most important concept in all of biology at the "macro" level.
Because virtually every species of plant, animal or fungus you happen across bears a close physical relationship to a member of a different species, having a way to make definitive distinctions between them makes species identification both easier and more lively.
Biological Classification: Taxonomy
The science of classifying of living things is called taxonomy. Organisms are classified into seven primary groups, which include:
kingdom

phylum

class

order

family

genus

species
The genus and species name together uniquely identify an organism – for example, humans are Homo sapiens. Humans are in the animal kingdom, in the vertebrate phylum, in the mammal class and so on. Note that this system is not a dichotomous key, but it is founded on the basic principle of unique categories at each level of organization.
Dichotomous Key Basics
"Dichotomous" means "including exactly two choices." If you are looking at a map of your city and planning a route across town, you have have literally dozens of similar options in terms of the streets you choose. But if you come to a fork in the road, you have two and only two options.
The "forks" in a dichotomous key are decision points and are called couplets; each of the two choices at a couplet is called a lead. If you were told, "You are in a room, and there are two ways to leave it," the couplet could be called "exit" and the leads could be "green door" and "red door."
The critical aspect here is that at each point, there is no ambiguity between answers. For example, you would never see "tall elm" or "short elm" when reading a key used for tree identification. You might, however, see "tree 50 feet tall or taller" and "tree under 50 feet tall."
Example of a Dichotomous Key
Say you are given the following dichotomous key for house pets:
III. Not a service dog – Fido
IV. Wearing blue collar – Spot
IV. Not wearing blue collar – Bailey
V. Spayed or neutered – Fifi
V. Not spayed or neutered
Given this key and an 85-pound dog wearing a red collar, you can positively identify the pet as Bailey.
Note that pairs of leads, not leads themselves, are assigned unique numbers. Also, pairs of leads do not necessarily occur in consecutive lines of the key.
In practice, if you are in possession of a valid and comprehensive key, you can eventually determine the genus and species of the organism in question, working both forward and backward. It helps to create your own sample dichotomous key, as with the simple above example using cats and dogs, to better reinforce how to read a real one.
References
About the Author
Kevin Beck holds a bachelor's degree in physics with minors in math and chemistry from the University of Vermont. Formerly with ScienceBlogs.com and the editor of "Run Strong," he has written for Runner's World, Men's Fitness, Competitor, and a variety of other publications. More about Kevin and links to his professional work can be found at www.kemibe.com.