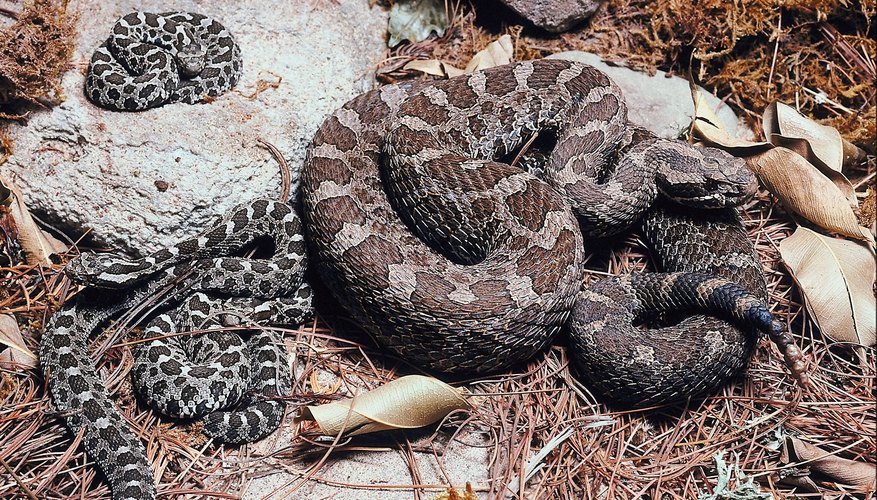 Rattlesnakes make their dens in various different spaces, anywhere from a hole in the ground to a protected rock ledge. This can make it hard to identify a den unless the snake is actually visible inside. However, most rattlesnake dens share certain characteristics.
Function
Rattlesnakes often congregate in caves, on ledges of large rock formations, or even in rock crevices to hibernate. They spend the winters in groups because the combined body heat makes for a warmer den.
Types
Since rattlesnakes cannot dig, they may seek refuge in burrows or holes left by other animals. Common underground den choices include vacant rodent holes and rabbit warrens.
Geography
Because of the warmer climates, rattlesnakes are most frequently found living in the central and southern parts of the United States. Dens can usually be found on hillsides with good sun exposure, and at higher elevations that have less risk of flooding.
Identification
Although they prefer to keep their homes clean, rattlesnake dens can occasionally be identified by the excrement found inside. The feces may have tufts of hair or feathers, and can be yellow, white or brown.
Size
The number of rattlesnakes living together in one den can range anywhere from a dozen to several hundred. It will depend on many factors including the type of rattlesnake and the location and the size of the den.
Fun Fact
Rattlesnakes will return to the same den every year, as long as it is not disturbed or destroyed. Some people believe that they leave scent trails to identify their home.