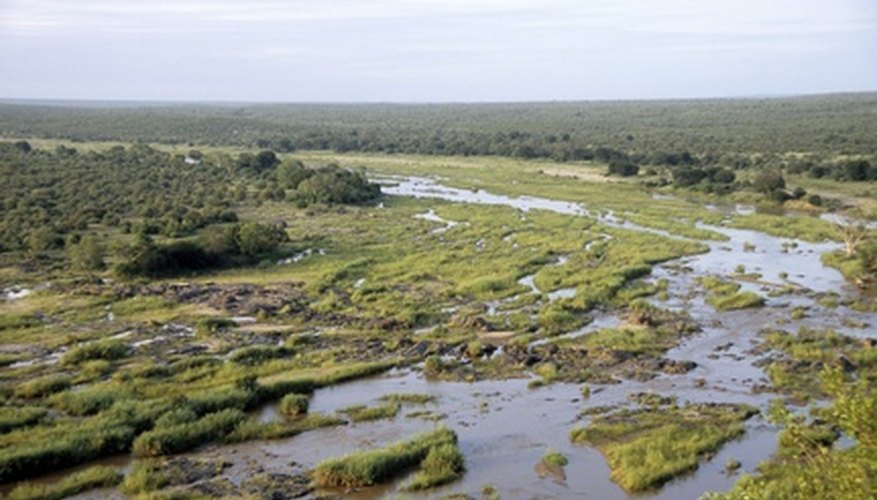 Olifants river wetland in savannah, Kruger National Park image by Lars Lachmann from
Fotolia.com
Wetlands are not just soggy land unsuitable for farming. They are valuable ecosystems in their own right. They also purify water before it reaches the sea, which is of enormous importance for marine life, fishermen and aquaculturalists. Draining wetlands can have a devastating impact.
Impurities
Wetlands filter out excess nutrients and dangerous pollutants in rain and storm water runoff and to a lesser extent river water. The most damaging of these impurities, such as toxic metals and excessive nutrients, come from agricultural and industrial activity. Wetlands also trap natural sediment and organic matter.
Process of Purification
Wetlands essentially act as sieves. Water from the land works its ways slowly through wetland soil and vegetation, and many of the impurities are trapped before the water reaches the sea.
Impact of Destroying Wetlands
If not trapped, sediment build-up can overwhelm estuaries and coastal areas, making the region less hospitable to life. The excess nutrients from agricultural fertilizers cause algal blooms, which in turn deplete the water of oxygen and lead to ocean dead zones. Other pollutants are simply poisonous, such as mercury and lead, which build up in the food chain and can be lethal to fish and marine mammals. Such pollutants are also dangerous to humans.