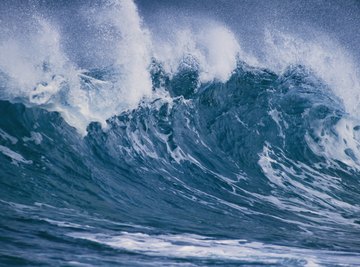 •••
Comstock/Comstock/Getty Images
A tsunami is a devastating natural phenomena that often strikes without warning. They most frequently stem from underwater earthquakes, which cause a change in the ocean floor that impacts the surface water for miles around. Not all earthquakes cause tsunamis, however. Understanding how tsunamis form after an earthquake helps scientists predict whether one will be generated by a particular tremor.
Tsunamis
A tsunami occurs when a large body of water, such as an ocean or sea, experiences displacement that causes a long-wavelength wave of water to reach the shore. The most common cause of a tsunami is an underwater earthquake, but they can also be caused by other events, such as a volcano or underwater landslide. Tsunamis often occur without any warning, but monitoring stations in some areas of the world now allow scientists to issue tsunami warnings when conditions that could cause a tsunami are present.
Tectonic Earthquakes
Tectonic earthquakes are a common cause of tsunamis. They often occur in areas where two crustal plates are pushing against each other, forcing one plate to slide under the other. These earthquakes shift the crust of the earth, leading to a rapid drop or rise of sea floor. When this happens, the water directly above the shifting plate rises or falls as well, creating a wall that rises above the surrounding water. The rest of the water near it shifts to try and compensate for the sudden change. Because the area of sea floor that rises or falls is usually miles in length, the resulting water displacement also covers a large area. Larger earthquakes typically cause larger surface displacements and larger tsunamis.
Split Tsunamis
As the water tries to settle after an earthquake, the initial wall of water that originally formed splits into two waves. One travels outward across the deep ocean and the other travels toward the nearest shore. As the waves travel, they stretch out so they are not as tall, but are extremely long. They travel at the ocean surface and their speed depends on the depth of the ocean below them.
Tsunami Landing
As the tsunami comes close to a coastline, it encounters the continental slope, the place where the seafloor gradually rises up to the landmass. As it approaches land, the wavelength gets smaller and the amplitude gets larger, so it becomes taller and slower than when it was in open ocean. When it hits the shore, the wave usually causes a rapid rise of the entire coastline to far above the normal sea level.
References
About the Author
Bridget Coila specializes in health, nutrition, pregnancy, pet and parenting topics. Her articles have appeared in Oxygen, American Fitness and on various websites. Coila has a Bachelor of Science in cell and molecular biology from the University of Cincinnati and more than 10 years of medical research experience.
Photo Credits
Comstock/Comstock/Getty Images