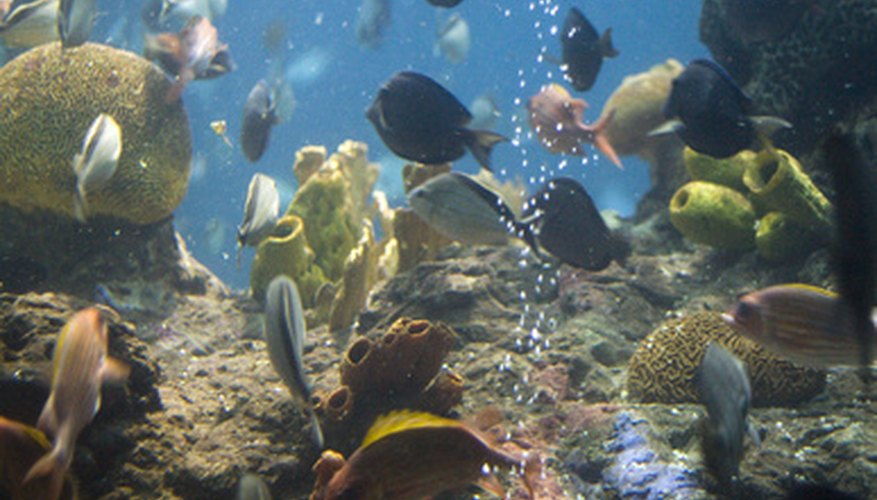 Natural ecosystems on the earth are made up of plants, animals, air, land and rocks. These elements depend on each other. A biome is a world environment of plants and animals that adapt to the specific environment around them. There are several ecosystems in each biome. By studying the different biomes of the earth, you will learn how to design and construct an ecosystem for a science project. Design an aquarium to represent the ocean biome, a terrarium to represent the rainforest biome or a desert terrarium to represent the desert biome.
Study Biomes of the World
Study the biomes of the world by logging onto the World Biomes website and reviewing the features of the desert and rainforest biomes. Using paper and pencil, take notes on the features of these biomes. For the aquatic or ocean biome, review the features of these specific biomes. What are the plants, animals, insects and rocks used in each environment? Write a detailed list. Also consider if water is present.
Design an Aquatic Ecosystem
Using Internet resources, research what types of plants, fish, rocks and coral make up an aquatic ecosystem. Write down all the elements needed to design the aquarium. Include the types of soil and depth, the number of plants and fish, and the rocks, sand, coral and type of aquarium needed for the project. Then, using the Make an Aquarium link as a guide, design a unique fresh water or ocean aquarium. Supplies needed for the project can be purchased at local pet stores or retailers that specialize in fish.
Design a Rainforest Ecosystem
Using Internet resources, research all the animals, plants, types of soil and rocks you need to create a rainforest ecosystem. Sketch on paper a detailed plan of how the plants, animals and soil will be arranged. Make of list of the number of plants and size needed, and what animals will fit into the terrarium. Use the Magic Terrarium link to design your own unique rainforest ecosystem. Supplies can be found in nurseries, pet stores and home improvement stores with garden centers. Some department stores carry simple containers for easy-to-make projects.
Design a Desert Ecosystem
Using Internet resources, design on paper a detailed plan of how your desert aquarium will look. List the plants, types of soil and reptiles needed for the ecosystem. Draw a detailed sketch of where the soil, plants and small reptiles will go. Then, using the Build a Desert Ecosystem link, create your ecosystem. Supplies for desert terrariums can be found at pet stores, department stores, craft stores and garden centers.