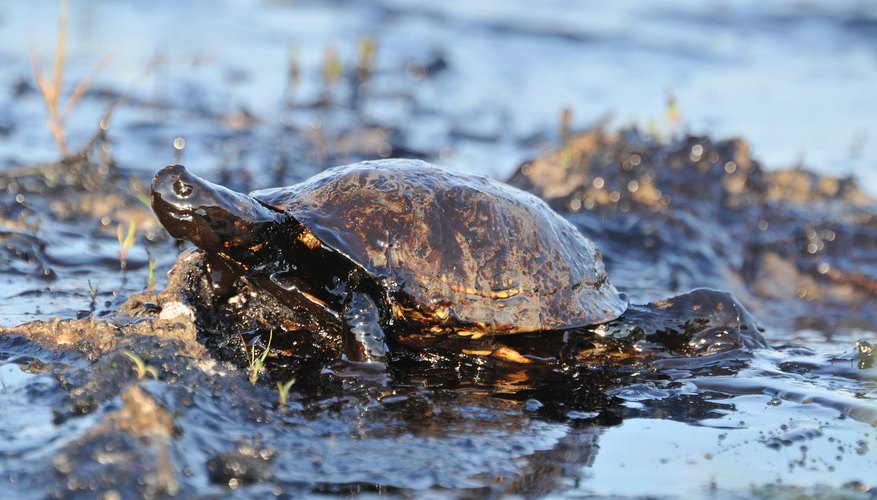 Hydrocarbons are a class of compounds primarily composed of carbon and hydrogen, and they are major components of oil, natural gas and pesticides. These substances contribute to the greenhouse effect and global warming, deplete the ozone, increase occurrences of cancer and respiratory disorders, reduce the photosynthetic ability of plants and, in the notorious form of oil spills, do untold damage to ecosystems.
Methane and Chloroflorocarbons
Methane and chloroflorocarbons (CFCs) are two hydrocarbons that can drastically alter our atmosphere. Methane is oxidized into carbon dioxide (CO2), which increases the amount of this substance in the atmosphere and adds to the greenhouse effect and global warming. CFCs are hydrocarbons used in refrigeration and aerosol cans. High up in the atmosphere, they produce chlorine and reduce the ozone layer, which protects the earth from ultraviolet radiation.
Aldehydes and Alkyl-Nitrates
Aldehydes are toxic chemicals that result from the combustion of hydrocarbons, such as burning car fuel and plywood. They have been shown to produce eye and lung irritations, possibly cause cancer and even inhibit photosynthesis in plants. Alkyl-nitrates are products of hydrocarbons that chemically react with molecules in the atmosphere. They can chemically react again to produce nitrous oxide, which can affect bone marrow and possibly cause neurological effects.
Aromatic Hydrocarbons and Poly-Nuclear Aromatic Compounds
Aromatic hydrocarbons come from the combustion of coal, oil, tar and plant material. Benzene is a common hydrocarbon and is used as a solvent and in fuel. Benzene has been found to deplete red blood cells, cause cancer in mammals and damage bone marrow. Poly-nuclear aromatic compounds are hydrocarbons with two or more benzene molecules. They have been shown to cause cancer also.
Oil: Extensive Hydrocarbon Damage
Massive oil spills are an obvious source of damage to ecosystems and human health, clogging pores, inhibiting respiratory functions and poisoning animals who ingest them. Oil is not only detrimental in large spills; small emissions from automotive leaks and other sources can have cumulative effects that can be very damaging to the environment.