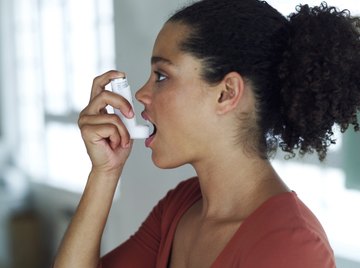 •••
Stockbyte/Stockbyte/Getty Images
Pollution from the environment you live in may be making you sick. A pollutant can come in the form of a gas, liquid, or solid and may even be present at your home. Healthcare professionals advise you to be aware of your surroundings and the possible toxic substances that are products of pollution because they can cause numerous health problems, including life-threatening illnesses.
Pollution Sources
There are numerous types of pollution from indoor and outdoor sources. Indoor pollution examples include formaldehyde, mold, carbon monoxide and tobacco smoke. Examples of outdoor pollution include benzene, sulfur monoxide, nitrogen dioxide, ozone and hydrochloric acid from industrial operations. These pollutants commonly enter the human body system through the skin, eyes, ears, nose and/or mouth. Each of these substances represents a significant threat to human health, causing anything from acute sudden illness to long-term chronic diseases and even death.
Respiratory System
The respiratory system is comprised of organs that function to breath in oxygen and take away carbon dioxide. Pollution that includes tiny particles such as dusts and debris smaller than 2.5 micrometers in diameter can be inhaled deep into the lungs. Once a toxin is inhaled it can cause immediate damage to the lungs and even circulate into the blood stream. Existing health conditions such as asthma may also be exacerbated by exposure to respiratory irritants such as ozone and sulfur monoxide. Continued exposure to respiratory pollutants can result in chronic bronchitis, tissue damage and cancer.
Circulatory System
The circulatory system includes the heart, blood and blood vessels. Blood plays a vital role in transporting nutrients, evacuating wastes, regulating body temperature and immune response. When toxic pollution enters the blood stream, the results can be devastating. Benzene is a common pollutant from oil and gas production and in even small amounts has been linked to cancer of the blood called Leukemia. Research has also linked carbon monoxide, oxides of nitrogen, sulfur dioxide, lead and ozone to abnormal heart rhythms, arterial constriction, abnormal inflammatory responses and heart disease.
Nervous System
The nervous system serves as the body control system and is made up of the brain, spinal cord and nerves. When pollutants enter the human body they can cause abnormal nervous system actions such as activation of unnecessary immune responses. According to the National Institute of Health, air pollution has been associated with stroke, Alzheimer's disease, Parkinson's disease and other brain disorders.
Reproduction
Pollution is especially dangerous during pregnancy and early childhood. During pregnancy critical, rapid cell growth occurs in the fetus. This period of cell growth can be adversely impacted when exposed to pollution such as high levels of carbon monoxide and ozone. Air pollutants have been linked to low birth weight and congenital heart defects. A recent Stanford University School of Medicine study determined that vehicle air pollutants were also linked to malformations of the brain and spine.
References
About the Author
Ben Alonzo has authored science and technology content since 2005 covering news, analysis, product reviews as well as consumer guides. He is a professor of science, holds a Master of Science in geoscience from Mississippi State University, A+ information technology and emergency medical technician certifications, and is a health science graduate student.
Photo Credits
Stockbyte/Stockbyte/Getty Images