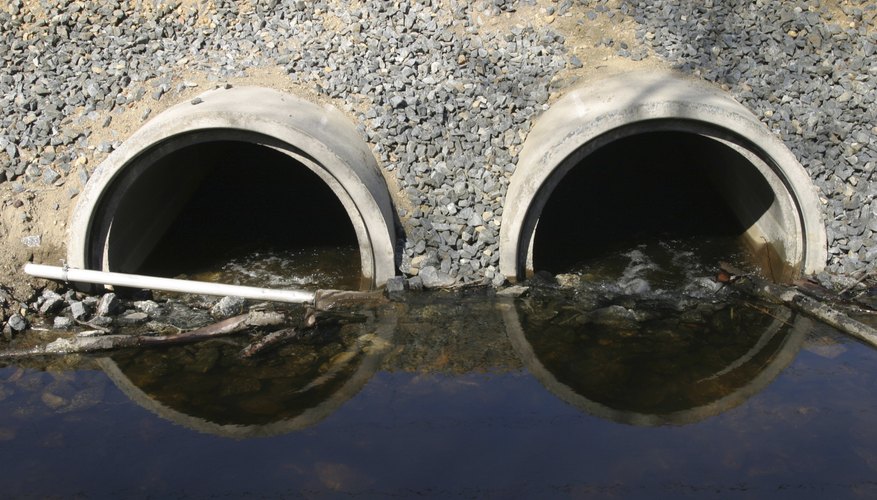 Hemera Technologies/AbleStock.com/Getty Images
Treatment of municipal sewage has significantly reduced pollution of aquatic ecosystems, but the problem of sewage pollution persists. Sources of sewage pollution are overflow of raw sewage from over-burdened or poorly designed systems, inefficient treatment of sewage by treatment facilities, and farm effluent. Although widely acknowledged as a major problem, few countries strictly enforce rules regarding the discharge of farm effluent. Sewage pollution alters the balance of marine and freshwater ecosystems, causing them to function less efficiently.
Eutrophication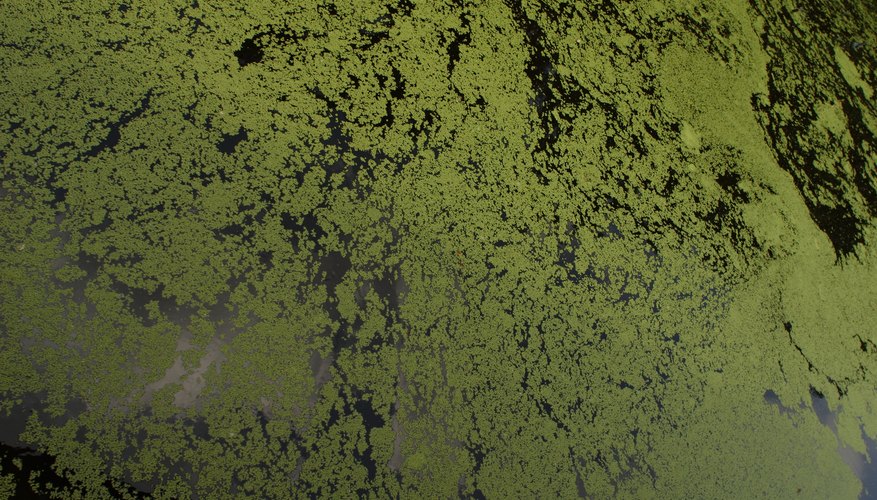 Hemera Technologies/AbleStock.com/Getty Images
Sewage contains very high quantities of nutrients, primarily nitrogen and phosphorous. Under natural conditions, low concentrations of these nutrients limit the productivity of aquatic ecosystems. Sewage promotes excess growth of aquatic primary producers -- plants, algae and cyanobacteria -- in a process known as eutrophication. With increasing biomass of primary producers comes an increase in the number of primary consumers, such as zooplankton and herbivorous fish. Extra productivity is transferred up the food chain in this manner, eventually reaching predatory fish and mammals at the top of the food chain.
Community Dynamics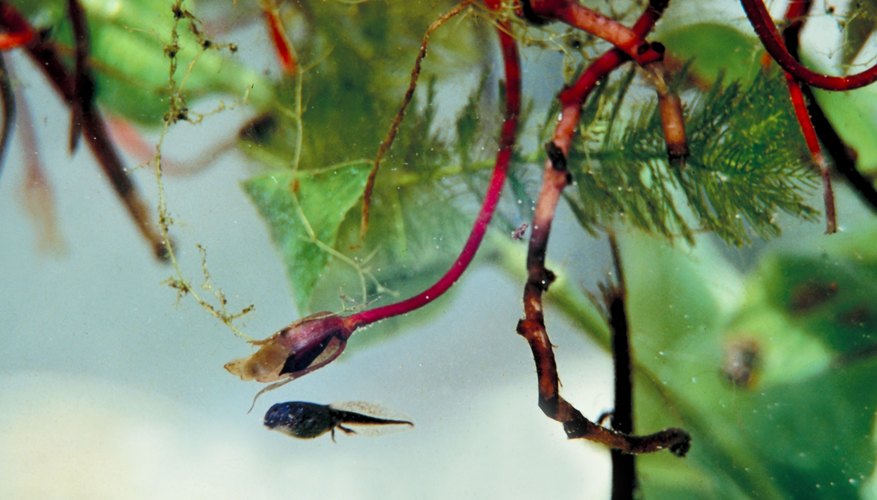 Hemera Technologies/AbleStock.com/Getty Images
Physical habitat changes that arise from excess plant growth can dramatically change community dynamics. For instance, excess growth of aquatic plants can reduce available habitat for animals that require open water to live, such as filter feeding invertebrates. Plant growth can also change species dynamics, for example by creating more refuge for prey animals and thus reducing the feeding efficiency of predators. The availability of extra food may result in competitive inequality at all levels of the food chain, with animals that are more efficient at using the extra food source becoming dominant in the ecosystem. This typically results in aquatic ecosystems with high biomass but low species diversity.
Hypoxia
Sewage pollution promotes hypoxia, or oxygen depletion, in aquatic ecosystems in two ways. Firstly, sewage itself contains large amounts of organic matter which is directly available to bacteria in the water. Secondly, it promotes growth of plants and algae that become a source of organic matter when they die. When bacteria consume organic matter they also consume dissolved oxygen from the water. Hypoxia can kill animals or cause physiological stress that stunts growth and reproduction. A famous example of an aquatic ecosystem that suffers from hypoxia is the Gulf of Mexico Dead Zone. Many invasive species, like Asian carp, can tolerate low-oxygen conditions. Sewage pollution therefore facilitates the spread of invasive species by creating suitable habitat for them and eliminating competition.
Antibiotics and Hormones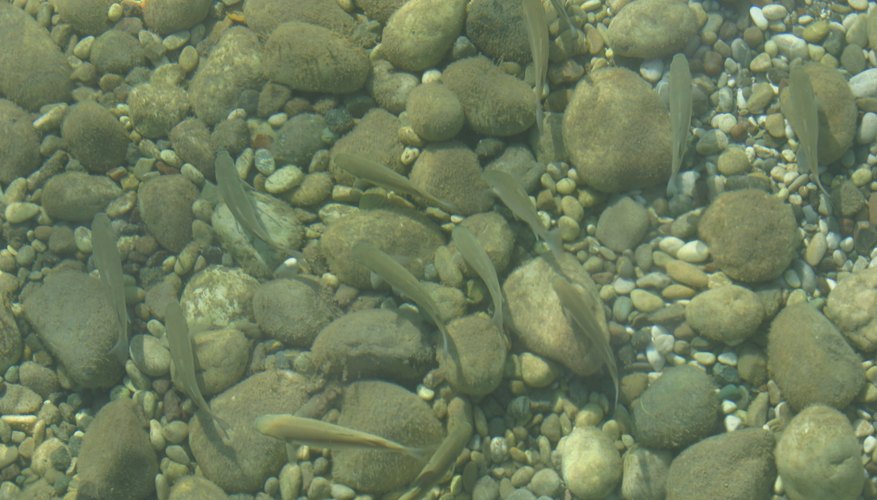 Hemera Technologies/AbleStock.com/Getty Images
Antibiotics and hormones are excreted by livestock and humans in urine and feces. Major sources of sewage containing these compounds are hospitals, intensively managed farms, and slaughterhouses. Once in the water, antibiotics can inhibit the growth of bacteria that play an important role in removing nitrogen from water. Antibiotics also promote the growth of resistant bacteria, upsetting the balance of bacterial communities. Synthetic hormones are known to disrupt the endocrine system -- a group of glands that produce hormones and control their release -- of mammals, fish, reptiles, amphibians and invertebrates. Synthetic versions of hormones, such as estradiol, can mimic natural hormones and alter the sensitivity of hormone receptors, causing abnormal growth and reproduction of exposed animals.