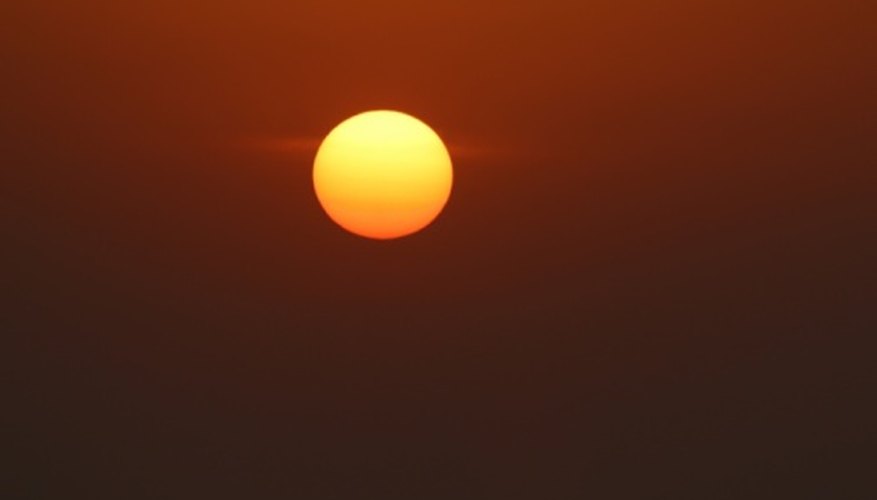 Jupiterimages/Photos.com/Getty Images
If you have ever noticed the change in temperature as you go to a higher elevation, such as driving up a mountain road to the summit, then you have probably noticed that it is much cooler at the top. This is the norm throughout the world, explaining why snow often caps mountains while the land thousands of feet below doesn't have any accumulation. But you may not know that these typical atmospheric conditions aren't always in place. When the temperatures reverse, it is known as a temperature inversion, and it can have varying effects on the conditions where you are.
Understanding an Inversion
The sun's radiant energy is mostly converted to heat at the earth's surface level, and that heat tends to warm the air closest to the ground first. The warm air rises and cools as it disperses in the atmosphere. Sometimes, usually on clear nights with calm winds, the surface temperature drops rapidly when the sun goes down. Since the air doesn't conduct heat very well, the surface gets cool while some of the air above remains warm. This is a temperature inversion.
Hazy Skies
One of the most noticeable effects of a temperature inversion is on air quality. During the winter, temperature inversions are stronger and more common. This is generally when air quality suffers most as a result of temperature inversions. The warm air on top of the cool air acts as a lid, trapping pollution such as car emissions and smoke from fireplaces close to the ground. This results in hazy skies and poor air quality.
Cloud Formations
Temperature inversions are also responsible for certain cloud formations. When clouds form just below the inversion in the sky, they spread out and have a very flat smooth appearance. These clouds are often seen over cool ocean waters where temperature inversions are common.
Thunderstorm Prevention
While a temperature inversion sounds like something that might make the atmosphere unstable, it actually has the opposite effect. Temperature inversions can keep thunderstorms from forming. Most thunderstorms happen during hot and humid weather at the surface, but they are unable to strengthen if the tops of the storms are unable to rise and retain their heat energy. When the typical temperatures are applied to the atmosphere with cooler temperatures at higher altitudes, it actually forms an unstable air layer that is ideal for the formation of thunderstorms.