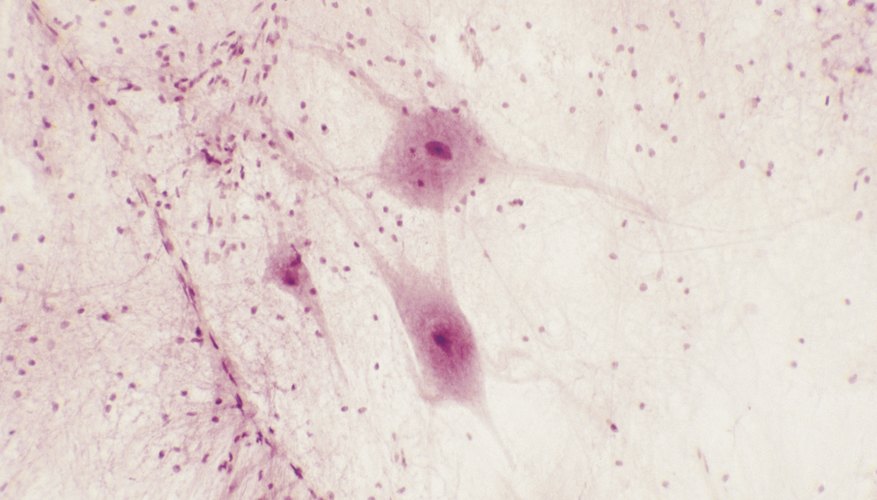 In neurology, the electrical impulse moving down an axon is called a nerve impulse. Nerve impulses are an important part of how the nervous system communicates. The activation of neurons triggers nerve impulses, which carry instructions from neuron to neuron and back and forth from the brain to the rest of the body.
Neurons
A neuron is a type of cell that makes up the human nervous system and brain. They are also called nerve cells. Neurons are like other cells, but they have structures that look like long limbs called dendrites and axons that allow them to receive and send electrochemical signals, respectively. The human body uses nerve cells to send instructions to all parts of itself and receive sensory information to the brain.
Activating Neurons
Neurons rest in a neutral state. They are full of negatively charged potassium ions and have positively charged sodium ions floating outside the cell. Upon receiving a stimulus, such as a signal from another neuron, the cell allows sodium ions to rush into the cell, making its charge increase rapidly. This fires off a nerve impulse to other neurons. The nature of the signal depends on the cell. For example, some neurons are specialized to transmit the sensation of touch to the brain.
Nerve Impulses
The action potential sends an electrical signal down the axon of the neuron. This electrical signal, the nerve impulse, can either jump directly to the next neuron, or it might need to move indirectly through a chemical impulse. The gap between the axon of one neuron and the dendrite of the next is called the synapse. Information moves across the synapse using neurotransmitters, which are special chemicals that move across the synapse.
Neurotransmitters
The neurotransmitters are located at the end of the axon. When the nerve impulse reaches them, the proper neurotransmitters for the signal float across the gap to the next neuron, where they fit into special receptor sites. The frequency and duration of their attachment to the site as well as the exact mix of neurotransmitters determines the signal. The reception of the neurotransmitters triggers another electrical nerve impulse in the receptor neuron.