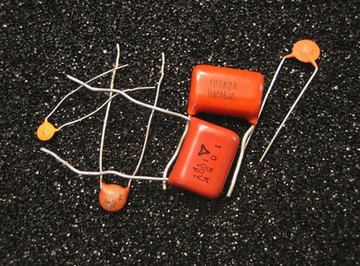 Electrical engineers earn an average of $85,350, as of May 2008, according to the Bureau of Labor Statistics. As with most engineering jobs, electrical engineers require a bachelor's degree at minimum. You may not want to pursue electrical engineering as a career. Still, there are a number of electrical projects for engineering that you can do to get a taste of the field without a four-year degree. Similarly, some projects can be done only by large teams of experienced engineers.
Pocket Theramin
If you've ever watched old horror and science-fiction films from the 1950s you are probably familiar with the sound of the theramin, if not the name. The theramin makes the "spooky" sounding background music in these films. Making your own full-sized theramin can set you back as much as $400, as of 2010. You can make your own pocket-sized theramin for under $20 and in less than three hours, according to Popular Science magazine. Your pocket theramin will be light-sensitive and can only be played in places with low lighting. It runs on a nine-volt battery and electrical engineering objects found at your local electronics shop.
USB Power Supply
You can make your own power supply for USB-enabled devices. The circuit involved is described by Maximum PC magazine as "about as simple as a circuit can get." Cover your circuit in electrical tape. Then use a drill to make holes in a discarded mint tin to make a house for your USB power supply.
Smart Vehicles
Smart vehicles are one of the larger and more promising engineering projects in the world, as of 2010. Electrical engineers are currently seeking ways to get cars to drive themselves. Smart cars aim to be safer than standard, human-operated cars. Smart cars will have to be able to do things like parallel park themselves. Students in an Institute of Electrical and Electronics Engineers course use small motorized vehicles with infrared sensors, programming them to follow a path, turn and stop.
Prosthetic Hands
Another Institute of Electrical and Electronics Engineers project involves the creation and perfection of prosthetic hands. Students at the IEEE use a Lego Mindstorms NXT kit to construct a small robot with an arm for lifting small objects like coffee mugs. This teaches the students accuracy and precision and the ability to create prototypes on the quick. Of particular interest to electrical engineering students is the relationship between how many volts a motor receives and how quickly it operates.
References
About the Author
Nicholas Pell began writing professionally in 1995. His features on arts, culture, personal finance and technology have appeared in publications such as "LA Weekly," Salon and Business Insider. Pell holds a Bachelor of Arts in English from the University of Massachusetts at Amherst.
Photo Credits