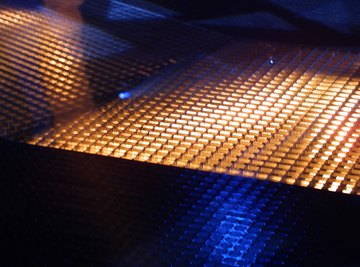 •••
Photos.com/Photos.com/Getty Images
Electrolytic copper has undergone refining or purification by electrolysis. Purification by electrolysis represents the easiest method of achieving purity levels of 99.999 percent in copper, according to Science Clarified.
Electrical Equipment
Electrolysis enhances the qualities of copper as an electrical conductor. Electrical equipment often contains electrolytic copper, according to Science Clarified. Copper also is easily drawn and formed into wires.
Copper Ores
Copper most commonly exists in chalcopyrite and sulphide ores. Silicate, sulfate and carbonate ores also contain copper. The low percentage of copper in these ores makes it necessary to concentrate them before electrolysis, according to Chemguide. The methods used to concentrate copper ores include heating in a furnace or reacting them with sulfuric acid.
Electrolysis of Copper
Electrolysis uses an anode that contains the impure copper that results from ore concentration. The cathode consists of pure copper, titanium or stainless steel. The electrolyte solution consists of copper sulfate, according to Science Clarified. An electric current causes copper ions from the anodes to enter the solution and become deposited onto the cathode. Impurities either fall away and form sludge or stay in solution. The cathode gets bigger as pure copper forms on it, while the anode shrinks.
References
About the Author
Lexa W. Lee is a New Orleans-based writer with more than 20 years of experience. She has contributed to "Central Nervous System News" and the "Journal of Naturopathic Medicine," as well as several online publications. Lee holds a Bachelor of Science in biology from Reed College, a naturopathic medical degree from the National College of Naturopathic Medicine and served as a postdoctoral researcher in immunology.
Photo Credits
Photos.com/Photos.com/Getty Images