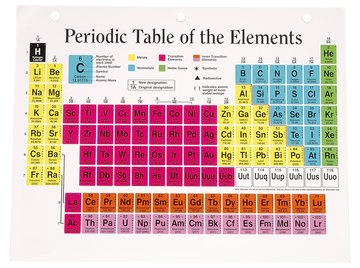 •••
Hemera Technologies/PhotoObjects.net/Getty Images
All elements are isotopes. Although all atoms of a given element have the same atomic number (number of protons), the atomic weight (number of protons and neutrons together) varies. The term "isotope" refers to this variation in atomic weight -- two atoms with the same number of protons and a different number of neutrons are two isotopes of the same element.
Atomic Number
Protons are positively charged particles in an atom's nucleus. An atom, as a whole, carries a neutral charge, so each positively charged proton is balanced by a negatively charged particle. These negative particles -- electrons -- orbit outside of the nucleus. The orbital configuration of the electrons determines how an atom will react and bond to other atoms, giving each element its specific chemical and physical characteristics. Each element has a unique atomic number printed above the chemical abbreviation on the periodic table.
Atomic Weight
Neutrons are subatomic particles that carry no charge, so the number of neutrons in an atom's nucleus does not affect the number of electrons or their orbital configuration. Two atoms with the same number of protons and a different number of neutrons will have the same physical and chemical properties but different atomic weights. These two atoms are different isotopes of the same element. For example, the most common isotope of hydrogen is H-1, meaning the atom has one proton and no neutrons, but H-2 and H-3 isotopes also exist, with one and two neutrons, respectively. The periodic table gives an element's average atomic weight beneath the element's chemical symbol.
Radioactive Isotopes
Heavier isotopes of an atom are often unstable and will break down into lighter isotopes over time. This atomic decay releases energy in the form of alpha, beta and gamma radiation. Hydrogen-3, for example, is radioactive and will break down into hydrogen-2. All elements have radioactive isotopes that decay at varying rates. The rate of decay is measured in half-lives -- the amount of time it takes for half of the radioactive isotopes in a sample of a given element to decay into lighter isotopes. The half-life for hydrogen-3 is 12.32 years.
Uses for Radioactive Isotopes
Researchers and medical professionals make extensive use of radioactive isotopes. By measuring the quantity of the naturally occurring radioactive isotope carbon-14, archaeologists and paleontologists can determine the approximate age of a fossil or artifact. Doctors use the isotopes iodine-131 and barium-137 as radioactive tracers to detect heart problems, brain tumors and other abnormalities, and cobalt-60 serves as a radiation source to halt the development of cancerous tumors.
References
About the Author
David Samson has been contributing since 1999 under various pseudonyms to a number of underground avant-garde/punk magazines, including "The Bourgeois-Geist" and "Medatrocity." He has a Bachelor of Arts in English from the University of Texas at Austin, and also works as a freelance writing tutor.
Photo Credits
Hemera Technologies/PhotoObjects.net/Getty Images