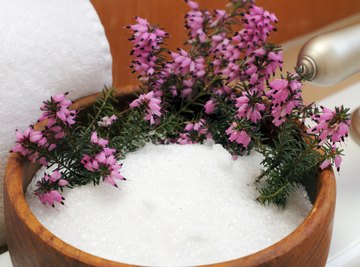 •••
Serenethos/iStock/Getty Images
Epsom salts poured into a toilet help increase magnesium in the ground of the septic system's leach field. This aids plant growth over the leach field of a septic system. System systems consist of a holding tank and a drainage or leach field. Most biological decomposition occurs in the tank, and solids remain there. Water that empties into the drain field percolates into the soil along with any chemicals dissolved in the water. Epsom salts can have beneficial effects on the soil.
Epsom Salts: A Natural Tonic
Epsom salts are named for the region in England where they occur naturally in the well water. Chemically, they are known as hydrated magnesium sulfate, containing about 10% magnesium and 13% sulfur. They are known for their soothing effects on the skin, and research has shown them to have beneficial effects on plants as well.
Good for the Drain Field
Pouring magnesium sulfate – Epsom salts – into a septic system via a toilet or sink drain isn't likely to have any effect on bio-degradation in the tank. But when it reaches the drain field, the salts raise the concentration of magnesium in the soil more efficiently than commercial soil amendments, and this can have a beneficial effect on the plants and grasses that are growing there. Plants that are especially likely to benefit include tomatoes, peppers and roses.
References
About the Author
Chris Deziel holds a Bachelor's degree in physics and a Master's degree in Humanities, He has taught science, math and English at the university level, both in his native Canada and in Japan. He began writing online in 2010, offering information in scientific, cultural and practical topics. His writing covers science, math and home improvement and design, as well as religion and the oriental healing arts.
Photo Credits
Serenethos/iStock/Getty Images