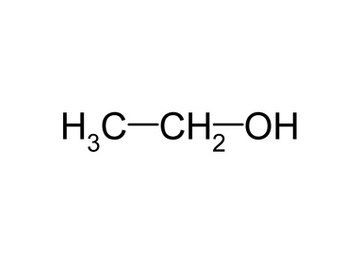 •••
ethanol - alcohol image by Cornelia Pithart from Fotolia.com
Ethanolic potassium hydroxide is a solution of potassium hydroxide in ethanol. Potassium hydroxide is an inorganic, chemical compound made of one potassium atom bonded to an oxygen atom, which is itself bonded to a hydrogen atom. Ethanol is an alcohol.
Properties
Potassium hydroxide exists as a white solid powder, but is highly soluble in alcohols like ethanol. Ethanolic potassium hydroxide is highly acidic in nature. It is highly corrosive when handled. It is an effective conductor of heat, and highly flammable. It appears as a colorless liquid.
Manufacture
The manufacture of ethanolic potassium hydroxide involves creating potassium hydroxide and then dissolving the potassium hydroxide powder in ethanol. Potassium hydroxide is produced by boiling a solution of potash with slaked lime.
Uses
Ethanolic potassium hydroxide is used as a dessicant. It is also used in some electrical batteries, such as those used in television remote controls. It is used in the manufacture of soaps, the production of biodiesel and the production of other potassium compounds.
References
About the Author
Thomas James has been writing professionally since 2008. His work has appeared on the science-fiction blog Futurismic. He writes about technology, economics, management, science fiction, politics and philosophy. James graduated from Trinity Catholic School and holds A-levels in physics, maths, chemistry and an AS-level in English language.
Photo Credits
ethanol - alcohol image by Cornelia Pithart from Fotolia.com