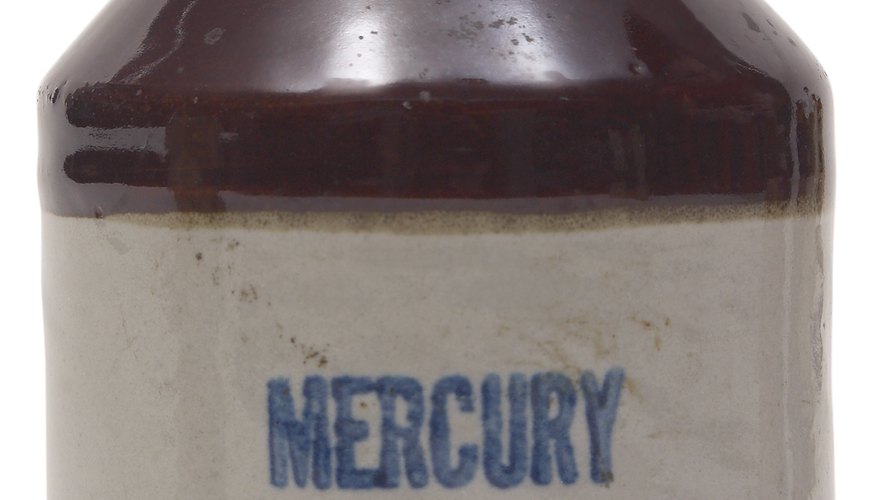 Both elemental mercury and most mercury compounds are highly toxic to humans and other animals. To make matters worse, these compounds build up in living organisms. Animals higher up on the food chain ingest mercury in the tissues of organisms they eat. As a result, these animals can be exposed to very high concentrations of these environmental poisons.
Bioaccumulation
Bioaccumulation is the buildup of mercury and mercury compounds in organisms.Mercury is found naturally at very low levels in ocean waters. It is introduced into the environment by natural events such as volcanic eruptions and forest fires. Burning coal and other human activities can also pollute the environment with these compounds.
Bacteria play an important role by converting mercury to a related compound called methylmercury. Both mercury and methylmercury are toxic, but methylmercury is much more dangerous, because it's much easier for organisms to absorb. So bacterial conversion is a major pathway for elemental mercury to get into the food chain. It tends to build up over time in organisms that are continually exposed. Predators or herbivores that eat contaminated organisms take in the methylmercury their prey contained; animals farther up the food chain are exposed to higher and higher concentrations.
Fish
Predatory ocean fish are other common examples of mercury bioaccumulation. Mercury in ocean water enters plankton, which become food for small fish. These small fish are in turn eaten by larger fish such as swordfish and sharks. Although nearly all fish contain traces of mercury, some predators such as sharks can contain mercury at concentrations a million times higher than the ocean water they inhabit. For this reason, the FDA recommends that pregnant women avoid eating shark, swordfish or king mackerel flesh.
Birds and Otters
Fish-eating birds are another common example of mercury bioaccumulation. Birds such as loons, osprey, herons and certain eagle species eat ocean or freshwater fish. These fish rely indirectly on plankton that contain mercury they absorbed from the surrounding waters. As a result, birds that contain very high levels of mercury can suffer growth problems.
Otters and other mammals that prey on fish are also vulnerable to high levels of mercury in the environment for similar reasons.
Minimata Disease
The tragic 1950s mass poisoning in Minimata, Japan is the most infamous example of mercury bioaccumulation. The Chisso Corporation factory located in Minimata used mercury as part of a process to manufacture acetaldehyde. The factory dumped the methylmercury-rich waste into the bay, where it accumulated in fish.
Many residents of the town depended on fish as a key part of their food supply. They did not realize the fish they ate were contaminated with lethal levels of methylmercury. The exact death toll is not certain, but well over a thousand people died, and many others suffered nerve damage.