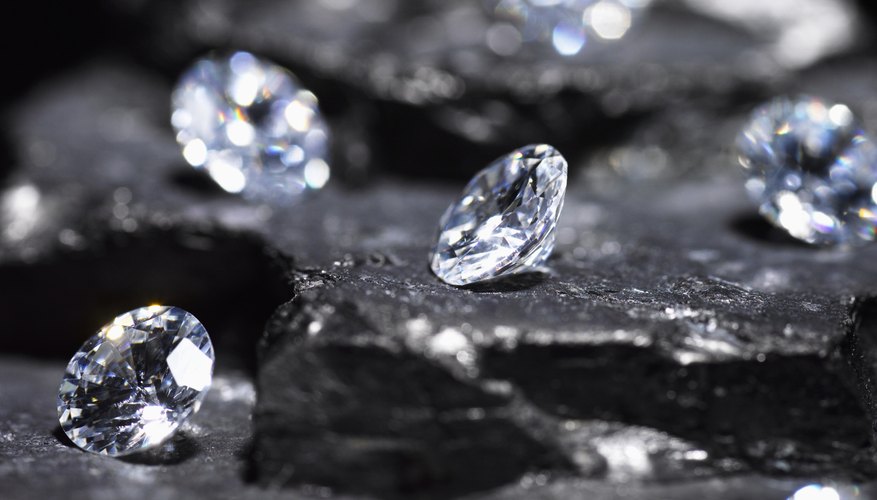 Carbon molecules are so common and abundant it's easy to overlook the many roles they play in our everyday lives. Carbon molecules make up the majority of the solid portions of all living things, and they are present in nearly every material we manufacture. They're even constantly swirling around us in the air we breathe.
Coal
Coal is still one of the most widely used fuel sources in the world today. According to The World Coal Association, this form of carbon is used to produce 30 percent of our world's energy, 41 percent of our electricity and is used in 70 percent of the world's steel production. In 2012 alone, the United States produced 935 metric tons of coal, which was second in the world to China, which produced a staggering 3,549 metric tons of coal.
Graphite
While coal is a relatively unrefined form of carbon, graphite is a hybrid molecule mined and used for many different purposes, most of which are based on its flexibility and strength. One of graphite's most recognizeable uses is in pencils, where graphite is the "lead." However, graphite is used regularly in automobile manufacturing materials such as brake linings and gaskets. It's also used in the manufacture of fire retardants, lubricants and lithium ion batteries. In fact, graphite is in such high demand that more than 1,000,000 tons of graphite are used each year, worldwide.
Diamonds
Diamonds are another common form of carbon we use in our everyday lives. Diamonds are commonly associated with jewelry, and their uses in courtship and fashion are by far their best known uses. However, diamonds are the hardest natural substance known to humankind, and their use exceeds their aesthetic qualities. Diamonds are a major industrial material, often used in grinding wheels and drill bits, even in saw blades designed to cut through other hard materials, such as masonry. Between uses for jewelry and industry, approximately 57 tons of diamonds are mined each year.
Carbon Dioxide
While it's easy to focus on the intentional uses of carbon, there is one that is so foundational to our existence, and to the majority of life on this planet that it easily goes unnoticed. We use carbon dioxide with every breath we take. We exhale it and it is then absorbed by plants that use it to perform photosynthesis. However, carbon dioxide also is used in human industry. It is a primary agent in cryogenic cooling and is compressed and used for atmosphere enrichment in greenhouses. It's also used to regulate PH in various processes, including paper making.