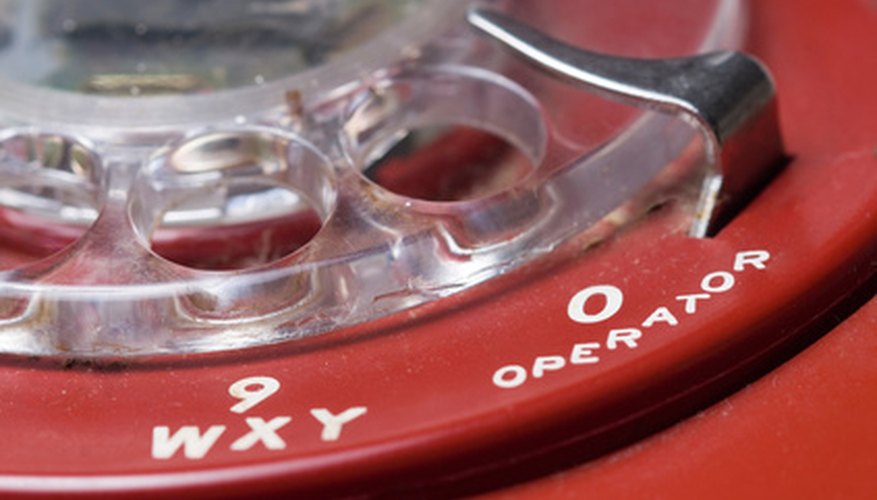 The wheel and axle is a simple machine system based on the principle of the lever. The wheel and axle consists of a circular disk or cylinder that rotates around a second, much narrower cylinder at its center. In wheel and axle arrangements, the axle is considered the effort arm and the wheel is considered the resistance arm. The junction of the two cylinders acts as the fulcrum of the lever. Simple wheel and axle machines are so common that they often avoid notice altogether.
Rotary Telephone Dial
In older telephones, numbers were entered mechanically by turning a numbered rotor a specific distance corresponding to each digit. As the rotor returned to its resting position, it triggered a series of electrical pulses equal to the digit dialed. These pulses were then transmitted to the telephone system to enter a number. The telephone's rotor acts as the wheel in a wheel and axle system. The axle, a short cylinder at the rotor's center, kept the rotor in place.
Rolling Pin
The handles of a rolling pin are attached to either end of the device's axle. In this case, the wheel is a long cylinder with a shaft bored through its center to accommodate the axle. By holding onto the handles at both ends of the axle, a cook can roll the wheel over dough or other malleable ingredients in order to flatten them for cooking.
Pencil Sharpener
In mechanical crank-driven pencil sharpeners, the hand crank serves as an axle in a wheel and axle system. When the crank turns, its base turns a wheel that is attached to gears and screws within the pencil sharpener's housing. These gears and screws strip wood away from the surface of the pencil, leaving a sharpened conical end.
Windmills
The blades of a windmill radiate from a central rotor. This rotor is a simple wheel and axle, similar in form and function to the wheel and axle within a pencil sharpener or a telephone rotor. As the blades rotate, the wheel and axle turn gears and shafts to transfer energy generated by the wind to other applications, such as electrical generators.
Record Players
The round, rotating portion of a record player is a wheel that turns around a short, powered axle. When a record is placed on the wheel and the power is on, it rotates the record so that its surface passes beneath a semi-stationary needle, which follows a single, spiraling groove on the record's surface.