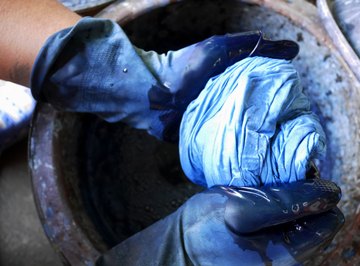 •••
Tuayai/iStock/GettyImages
Exhaust dyeing also is known as batch, or discontinuous, dyeing. It is the process used for most commercial fabric dyeing.
Dyeing
Essentially, the process involves loading fabric into a bath, originally known as a batch, and allowing it come into equilibrium with a solution, or suspension, of dye. Exhaust dyeing is the ability of the molecules to move from the solution onto the fabric fibers (substantivity). The substantivity of a dye can be influenced by temperature or additives, such as salt.
Rinsing
The exhaust dyeing process can take anywhere from a few minutes to a few hours. When the fabric has absorbed, or fixed, as much dye as it can, the bath is emptied and the fabric is rinsed to remove any excess dyestuff.
Specific Liquor Ratio
An important concept in exhaust dyeing is what is known as the specific liquor ratio. This describes the ratio of the mass of the fabric to the volume of the dye bath and determines not only the depth of color obtained, but also the environmental impact of the process.
References
"Textile Chemicals: Environmental Data and Facts"; Katia Lacasse, Werner Baumann; 2004
About the Author
A full-time writer since 2006, David Dunning is a professional freelancer specializing in creative non-fiction. His work has appeared in "Golf Monthly," "Celtic Heritage," "Best of British" and numerous other magazines, as well as in the book "Defining Moments in History." Dunning has a Master of Science in computer science from the University of Kent.