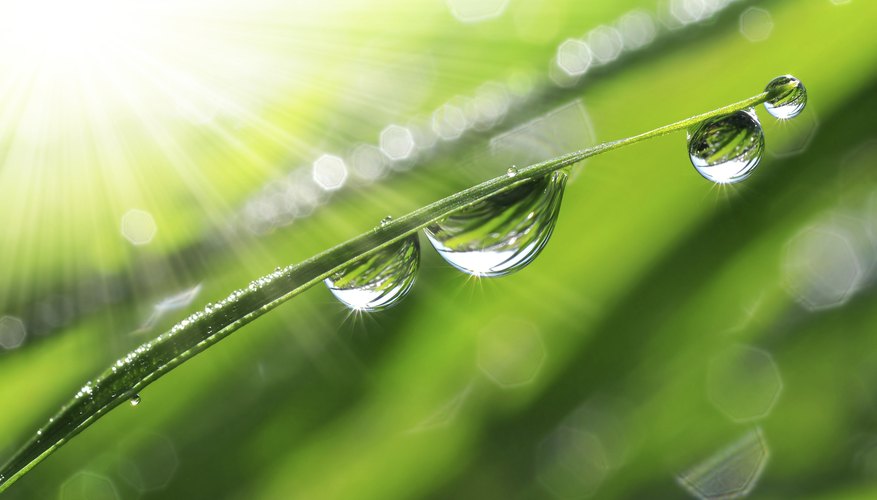 Condensation is a basic, everyday process that can be explained simply using a few simple experiments. These experiments can also show how condensation is a part of the water cycle.
What Is Condensation?
When beginning to explain the process of condensation, start by asking the person if they have ever seen the leaves of a plant covered in morning dew or the window of an air-conditioned car getting "foggy" or covered in mist. These are common examples of condensation. It should be pointed out that the dew and windshield mist are both created by many tiny water vapor molecules in the air gathering together to form tiny droplets. Also point out that the cold night air and the cold windshield encourage these molecules to stick together.
Condensation and Temperature Experiment
To show how temperature is related to condensation, take a drinking glass, place it in a room-temperature area and fill it with ice cubes. Tell the person you are explaining condensation to to watch the glass as tiny water droplets begin to form on its exterior. After a good amount of condensation forms, carefully remove the remaining ice cubes and any melt water -- without getting any water on the exterior of the drinking glass. Then, tell the person to watch as the condensation slowly evaporates from the outside of the slowly warming glass.
Condensation and the Water Cycle
Next, it should be pointed out that the reverse of condensation is when water droplets change into water vapor -- a process called evaporation. Both condensation and evaporation are a part of a process called the water cycle. The water cycle begins when water evaporates from streams, rivers, lakes or oceans. The water vapor from these bodies of water then goes high in the atmosphere, where the air is much colder. When the water vapor gets cold enough, it condenses into clouds and eventually falls back to the ground as rain. After the water falls as rain, it eventually makes its way back into the same rivers and lakes -- starting the entire cycle over again.
Water Cycle Experiment
To create a model of the water cycle, start by putting a large metal or plastic bowl outside on a sunny day. Next, fill the bowl about one quarter full with water. Carefully place an empty, dry mug in the center of the bowl. Then, cover the bowl with plastic wrap. Water from the bowl should slowly begin to evaporate and form a mist on the bottom of the plastic warp. Eventually, this mist will form into larger droplets, and some of these droplet will "rain" down into the mug.