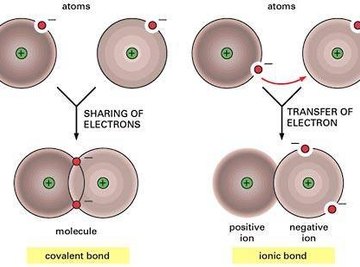 •••
Access Excellence's Covalent and Ionic Bonds
A molecular, or covalent bond, is formed when atoms bond by sharing pairs of electrons. This sharing can occur from atom to atom, or from an atom to another molecular bond.
Types
The are two types of molecular bonds: polar bonds and non-polar bonds. In polar bonds, the molecular bond is unevenly shared between atoms; in non-polar bonds, the electrons are evenly shared between the two atoms.
Features
Molecular bonds are classified as either singular bonds or multiple bonds. Molecular bonds form single bonds, where two atoms only share one pair of electrons.
Multiple Molecular Bonds
The double bond consists of two pairs of electrons, a triple bond consists of three pairs and quadruple bonds share four pairs of electrons; there are quintuple and sextuple bonds as well.
Coordinate Covalent Bond
In a coordinate covalent bond, a covalent, or molecular bond, is formed when only one of the two atoms is responsible for providing both electrons.
Disulfide Bond
A disulfide bond is a molecular bond that is formed when two sulfide atoms are linked to form polypeptide chains in proteins.
High Energy Bonds
High energy bonds release high energy levels when the bond undergoes hydrolysis.
Ionic Bonds
Ionic bonds cause the transfer of electrons from one atom to another atom, leaving it with a negative charge.
About the Author
Naima Manal's articles on health, diet, nutrition, alternative medicine, education, parenting, crafts, travel, home and garden and home improvement have appeared on various websites. Manal received her Bachelor of Science in biology/pre-medical studies from Molloy College in 1994 and has been a freelance writer, teacher and homeschooling mom since 1993.
Photo Credits
Access Excellence's Covalent and Ionic Bonds