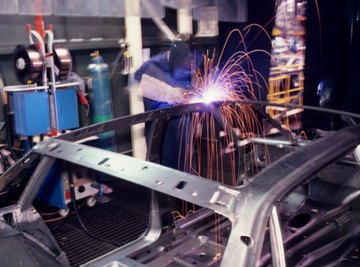 •••
Kim Steele/Photodisc/Getty Images
Onan, a power generator manufacturer, began business in 1920. Known mostly for its residential and commercial power generators, Onan also built small gas engines used mainly in the welding industry.
Production
As of 2010, Onan no longer produces engines. Prior to discontinuing them in 2003, Onan supplied its engines exclusively to welding equipment manufacturers Miller and Lincoln Welders. As of 2010, dealers and distributors of Onan engines continue to offer support and replacement parts for the discontinued products.
Features
Onan engines came ready to use and emissions certified, and they required no modifications. Features of Onan's Performer OHV 20, for example, included cast-iron cylinder sleeves, pulse-type fuel pump, 12-volt solenoid shaft starter, fixed-speed governor, electronic ignition, large dual-element air cleaner, full-pressure lubrication and full-flow spin-on oil filter.
Engine Details
Onan's Performer OHV 20 engine provided 16 horsepower of continuous output, an 8.3-to-1 compression ratio and a maximum of 4.53 lbs. of torque at 2,200 revolutions per minute. The Performer engine weighed 97 lbs. and held 1.64 quarts of oil.
References
About the Author
Lou Martin has been writing professionally since 1992. His work has appeared in the "Los Angeles Times," the "Long Beach Press-Telegram" and the "Deseret Morning News." Martin holds a Bachelor of Science in history and communication.
Photo Credits
Kim Steele/Photodisc/Getty Images