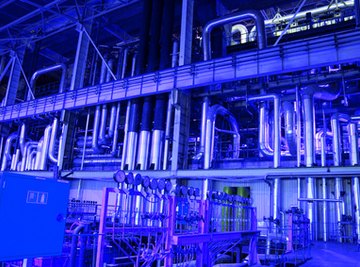 The manufacturing process for wrought steel pipe works raw steel into tubes of various lengths and diameters. Steel pipes play a role in the underground moving of water and gas, encasing electrical wires for protection, and the production of vehicles, bicycles, plumbing and heating systems, street lamps and refrigeration units.
Welded Pipe
The welded wrought steel pipe manufacturing involves moving steel strips through rollers that form the material into a tubular shape. These strips then pass through a welding device that fuses them into a single pipe.
Seamless Pipe
Seamless wrought steel pipe starts as a solid piece of heated steel. Forced through a form that shapes the material into a hollow tube, the pipe is then machined into appropriate dimensions.
Additional Processing
Welded and seamless wrought steel pipes often go through a machine for straightening. Threads machined into the ends of smaller diameter pipes allow them to connect together. Various protective coatings placed over the steel -- such as oil, paint, zinc or other kinds of material depending on the usage of the pipe -- prevent rusting.
References
About the Author
Theresa Custodio is a Michigan-certified nurseryman with over 10 years experience. She has spent over five years working for the State of Michigan's Department of Environmental Quality writing permits and violation notices, which are published for public record. She has a Bachelor of Science degree from Eastern Michigan University with a major in biology and a minor in conservation and resource use.
Photo Credits