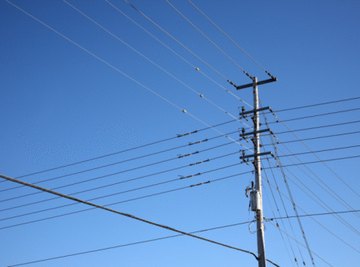 •••
Jupiterimages/Photos.com/Getty Images
Each electrical power pole uses a transformer. Electrical contractors consider the transformer's weight, in conjunction with other parts and labor values, to calculate the overall cost of a neighborhood electrical installation.
Identification
A basic transformer changes high-input voltage, which comes from a power plant, to a lower voltage that supplies home electricity needs. Electrical contractors commonly install liquid-submerged transformer assemblies on utility poles.
Calculating Weight
The U.S. Department of Energy created a power law equation for an estimation of transformer weight. The transformer's capacity in kilovolt amperes (kVA) multiplied by the basic impulse insulation level (BIL) gives the transformer's weight estimation. Both known values are readily available for each transformer, making the calculation universal for all units.
Significance
The transformer's weight contributes to an overall pricing calculation, allowing electrical contractors and transformer distributors to cover business expenses and generate a profit. Consumers benefit from accurate electrical pricing structures, as stipulated by the U.S. Department of Energy.
References
About the Author
Writing professionally since 2010, Amy Rodriguez cultivates successful cacti, succulents, bulbs, carnivorous plants and orchids at home. With an electronics degree and more than 10 years of experience, she applies her love of gadgets to the gardening world as she continues her education through college classes and gardening activities.
Photo Credits
Jupiterimages/Photos.com/Getty Images