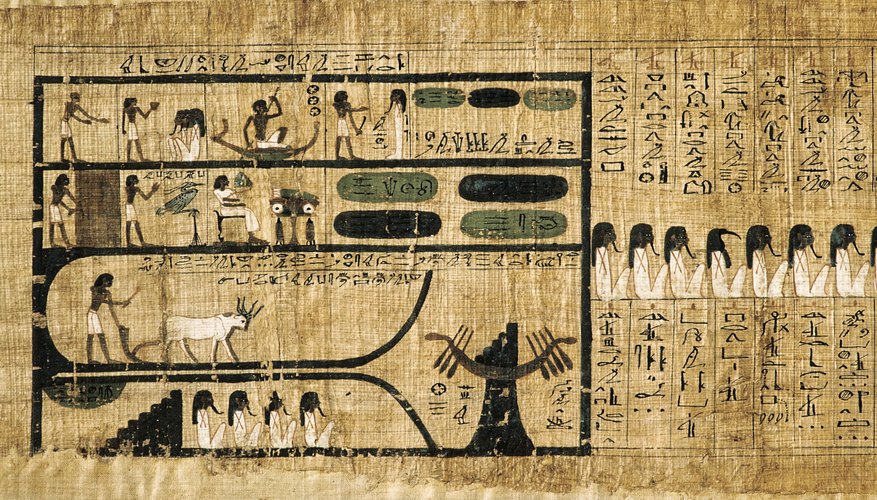 The Nile river played an important role in ancient Egyptian agriculture, as it still does to this day. In a country with little rainfall, the Nile's waters were vital for growing crops and the highest ground on the Nile's flood plains was considered the best for agriculture. Ancient Egyptian farmers used tools that are still in use, albeit in more modern forms.
The Hoe and Sickle
Egyptian farmers used a hoe to break up large clods of earth churned up by the plow. They also used hoes when tending growing crops. Examples of this ancient Egyptian tool discovered during archaeological excavations show that it was typically a wooden handle and blade bound together with rope. Photographs of a hoe from the Carnegie Museum show a typical example: an acute angle between the handle and the blade and the positioning of the rope binding make the tool resemble a letter A. A sickle typically has a short handle and a crescent-shaped blade and is used for reaping during harvest. In ancient Egypt, the blade was made of wood rather than iron. The wood was glazed and then honed to create sharp edges.
Plowing By Hand
Ancient Egyptians may have occasionally used oxen or donkeys to help with plowing, but it appears that the majority of farmers relied on their own strength. The type of plow used was made of wood and bronze. An example on display at the British Museum that dates from the New Kingdom between 1550 and 1070 B.C. shows a long wooden handle with two wooden blades at the bottom, tipped with bronze to help turn the soil.
Trampling and Threshing
After harvesting, the stalks were bound and taken to a threshing area. Here, the harvest was spread out and trampled by donkeys. Women separated the grain from the chaff using wooden forks. They then used sieves made from reeds and palm leaves to separate the larger pieces of chaff from the grain.
The All-Important Shaduf
A shaduf was an irrigation tool used to bring water from the Nile to the crops. It is still used today in Egypt and India. The shaduf consists of a long pole with a bucket-like device attached to one end and a weight attached to the other. The pole is balanced across upright wooden poles and resembles a seesaw. Pulling the rope from the long end fills the bucket with water. The weight on the other end of the pole brings the bucket up when it is full.