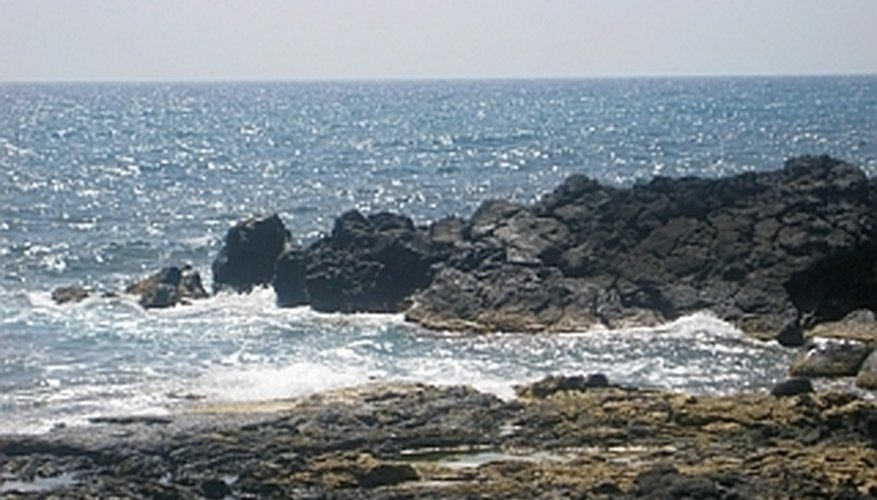 The Simple Answer
Water evaporates from the surface of the Earth at an average rate of 1/8 inch per day, according to WeatherQuestions.com. Scientists measure the change in the depth of water in a 4-foot diameter tub at numerous spots on the Earth, and then average the results.
A More Complicated Answer
The rate at which water evaporates depends on many factors, but the most significant are the temperature of the water, the surface area of the water, the relative humidity of the air immediately above the water and the purity of the water.
Temperature
Temperature is a measure of the average energy of the molecules of a substance. All molecules are constantly in motion, some with very little energy, some with a lot. In a liquid, if a molecule has enough energy, it may escape through the surface and become a gas molecule. When a water molecule does this, the molecule is then called a molecule of water vapor (or steam). If the temperature of the water is higher, that means that on average, the molecules have greater energy, and more of them will have enough energy to escape. Hot water evaporates faster than cold water.
Surface Area
Water molecules can only escape at the surface. If a glass of water is left on the kitchen counter, it may take many days for it to completely evaporate. If the same amount of water is spilled on the floor, however, it may dry in an hour or so, because the surface area is much larger.
Relative Humidity
All the while that water molecules are becoming water vapor by evaporating, some water vapor molecules are becoming liquid in the reverse process called condensation. If the air above a body of water is very dry, not much condensation takes place, and the water gradually disappears. Sometimes, however, the air can become saturated, meaning that it has all the water in it that it can hold. This is what is meant by 100 percent relative humidity. In that case, condensation takes place at exactly the same rate as evaporation, and the amount of water does not change.
Purity of the Water
If another substance, such as salt, is dissolved the water, the particles of that substance attach themselves to water molecules. This makes the water molecules heavier, which means that they need more energy to escape the surface. Fresh water evaporates faster than saltwater.