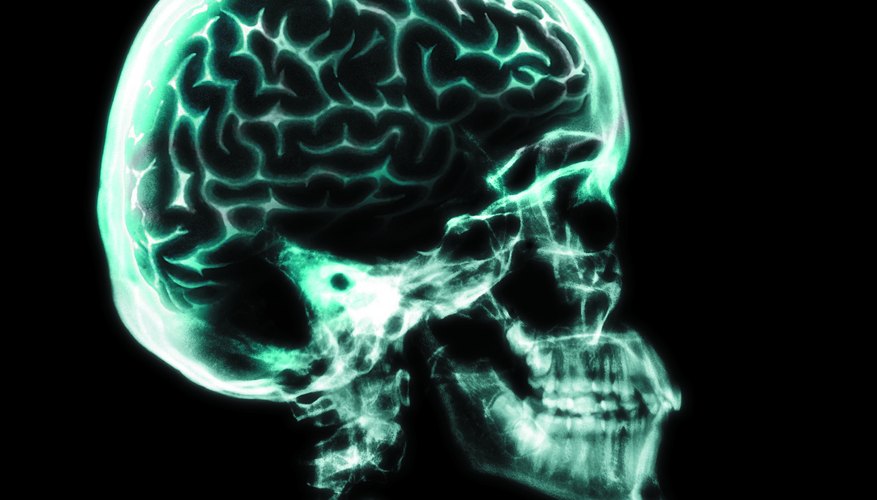 Digital Vision./Digital Vision/Getty Images
Lots of different chemical pathways keep organisms alive and growing, but these chemical pathways cannot run amok or they will be detrimental to the health of the organism. Feedback inhibition is one of the ways that chemical pathways are kept in check. The enzymatic pathway basically controls itself, without any input from outside the pathway. This method of control depends on product concentration and enzyme interaction with product.
The Basics of an Enzymatic Pathway
Enzyme pathways involve the first enzyme catalyzing the conversion of the first substrate into the second substrate, which in turn is converted into the third substrate using the second enzyme in the pathway, and so on. The aim is to produce an end-product that is required in the body at a specific level for a specific purpose.
How It Works
In pathways that use feedback inhibition, the end-product can bind to the allosteric site on the first enzyme. The allosteric site is an area on the enzyme that is distinct to the active site used for catalysis. When the end-product binds to the enzyme, it changes the physical shape of the enzyme so that it is no longer available to its substrate. This means that the initial reaction in the pathway, and therefore all the reactions that follow, are prevented.
Sciencing Video Vault
Create the (almost) perfect bracket: Here's How
Reasons It Evolved
An endless supply of a product is a waste of resources that could be put to better use in other processes. Accumulation of unwanted end-product can also be detrimental to health. As an example of feedback inhibition, the brain uses glucose for energy, and when each individual brain cell has enough glucose-6-phosphate, used in glucose breakdown, the glucose-6-phosphate binds to the hexokinase enzyme and prevents more glucose from being used. This allows the excess glucose in the brain environment to move to other brain cells that need it more.
Ending the Inhibition
While feedback inhibition to prevent excess end-product formation is useful, the end-product is generally necessary for use in another process. When levels of the end-product drop, the end-product that was bound to the allosteric site of the first enzyme is released for use, freeing the enzyme to begin the synthetic pathway again.