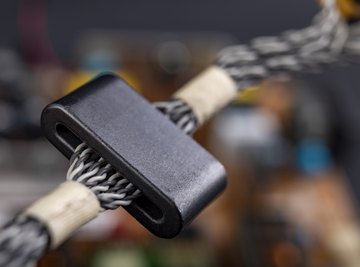 •••
Piotr Wytrazek/iStock/GettyImages
A ferrite clamp, or ferrite choke, is a device used to reduce the amount of RF (radio frequency) noise, or interference, in a wire that conducts electricity. Ferrite clamps are typically used to improve the performance of sound systems, including microphones.
Basics
Ferrite is name given to ceramics formed from various metal oxides. Oxides of iron, manganese, manganese and zinc and nickel and zinc are the most common forms of ferrite.
Function
Ferrite clamps usually consist of a two halves of ferrite that are, literally, clamped around a conducting wire. Ferrite is a highly permeable material and provides less resistance to the flow of magnetic flux in the conductor than air alone, so a ferrite clamps effectively absorbs some of the noise in the wire.
Limitations
Ferrite may be a highly permeable, but it is also very fragile. Ferrite clamps must therefore be protected against physical damage.
References
About the Author
A full-time writer since 2006, David Dunning is a professional freelancer specializing in creative non-fiction. His work has appeared in "Golf Monthly," "Celtic Heritage," "Best of British" and numerous other magazines, as well as in the book "Defining Moments in History." Dunning has a Master of Science in computer science from the University of Kent.