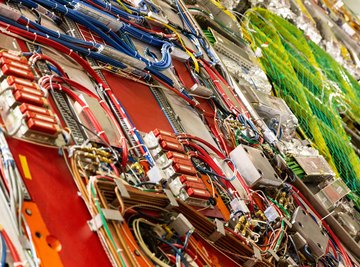 •••
Ronald Patrick/Getty Images News/GettyImages
The European Organization for Nuclear Research (CERN) plans to make upgrades to its equipment, so it can continue to search for a mysterious fifth force particle called X17. While CERN will make changes to its previous NA64 experiment in an attempt to find this tiny particle, a team of Hungarian physicists claims it has detected X17 two times.
The Fifth Force of Nature
Modern physics recognizes four forces of nature: electromagnetism, gravity, strong nuclear and weak nuclear forces. However, scientists believe a fifth force of nature may exist. It may explain some of the questions that physics cannot answer about the universe and dark matter.
First Reports About Particle X17
Hungarian physicists at the ATOMKI Institute have found two examples of what they believe may be the fifth force: particle X17. The first record of X17 happened when they studied a decaying isotope of beryllium, and the second occurred when they looked at an excited helium atom. In both cases, they noticed electrons and positrons broke off at unusual angles. This indicated that a mysterious particle was carrying energy.
So far, the Hungarian physicists believe X17 has a mass of 17 megaelectronvolts and is about 33 times bigger than an electron. This particle only seems to interact with neutrons, ignores protons and has a lifespan of one-trillionth of a second. The physicists think X17 is a boson, which is a particle that can carry energy and hold matter together.
The Ongoing Search for Particle X17
Although some scientists doubt the Hungarian physicists' research and think their reports are lab errors, CERN is taking it seriously. Its NA64 experiment has not found evidence of particle X17 at this time, but researchers are upgrading their detector equipment to continue the search.
"The NA64 collaboration searches for X17 by firing a beam of tens of billions of electrons from the Super Proton Synchrotron accelerator onto a fixed target. If X17 did exist, the interactions between the electrons and nuclei in the target would sometimes produce this particle, which would then transform into an electron–positron pair," CERN said.
Questions About X17
Some scientists don't believe X17 exists and also doubt that the fifth force is real. However, the Hungarian team's lead scientist, Attila Krasznahorkay, is used to questions about his research. Physicists around the world have examined the team's work closely for errors and haven't been able to find any significant ones.
"We introduced such a new particle, which nobody saw before, and [whose] existence could not be understood by the widely accepted 'Standard Model' of particle physics, so it faced scrutiny," Krasznahorkay told CNN.
Oscar Naviliat Cuncic is one of the scientists scrutinizing the work of the Hungarian lab. He has evaluated some of the previous studies done by the lab and has noticed a few issues. Naviliat Cuncic pointed out that the team has claimed to find other bosons with different masses from the same beryllium experiment but decided to ignore them.
"But they don't say anything about what went wrong in their previous claims and why we should not take those claims seriously. Is this value that they quote now going to change in the next four years?" Naviliat Cuncic told Quanta.
Nevertheless, questions about the team's work remain. Considering particle X17 is lightweight, why haven't other researchers encountered it during their experiments? And can other researchers repeat the Hungarian team's results?
References
About the Author
Lana Bandoim is a freelance writer and editor. She has a Bachelor of Science degree in biology and chemistry from Butler University. Her work has appeared on Forbes, Yahoo! News, Business Insider, Lifescript, Healthline and many other publications. She has been a judge for the Scholastic Writing Awards from the Alliance for Young Artists & Writers. She has also been nominated for a Best Shortform Science Writing award by the Best Shortform Science Writing Project.