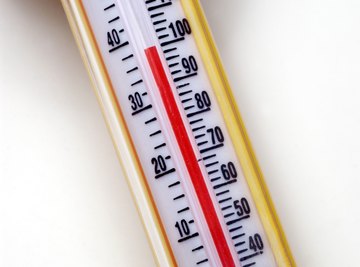 •••
Thinkstock Images/Comstock/Getty Images
Temperature gradient describes the direction and rate at which temperature changes in a given area. This calculation is used in everything from engineering, to determine heat generated when pouring concrete, in cartography and to show the range of temperatures in a particular region.
Measure the distance to determine the temperature gradient. For instance, the area of land you are mapping is 50 miles wide.

Measure the temperature at both end points of the distance. For example, the temperature at the western edge of the map is 75 degrees Fahrenheit and the temperature at the eastern edge is 50 degrees Fahrenheit.

Calculate the difference in temperature; in this case, it is -25 degrees, going from west to east.

Divide the change in temperature by the change in distance to determine the temperature gradient. In this example, the decline of 25 degrees over 50 miles equals a temperature gradient of -0.5 degrees per mile.
References
About the Author
Eric Strauss spent 12 years as a newspaper copy editor, eventually serving as a deputy business editor at "The Star-Ledger" in New Jersey before transitioning into academic communications. His byline has appeared in several newspapers and websites. Strauss holds a B.A. in creative writing/professional writing and recently earned an M.A. in English literature.
Photo Credits
Thinkstock Images/Comstock/Getty Images