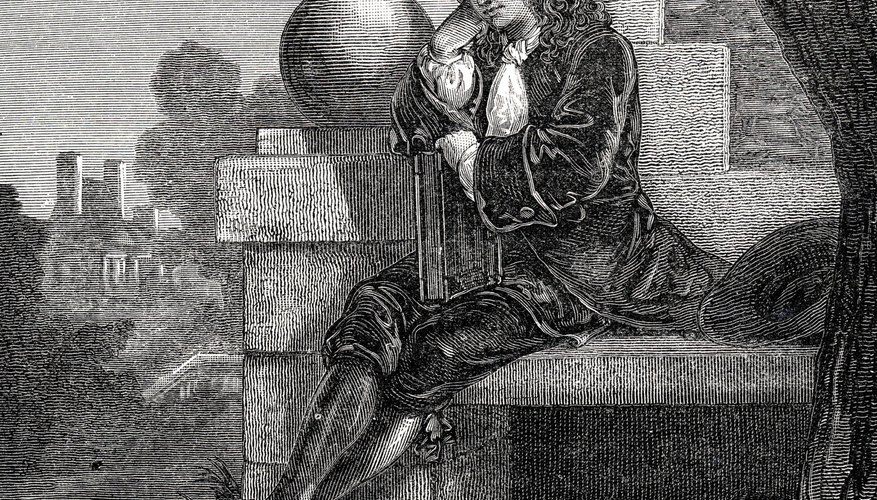 Things have been falling out of trees since prehistoric times, and surely Isaac Newton wasn't the first to notice it. He was, though, the first to come up with and record a theory about why apples and other things fall the way they do – the theory that we now know as the law of gravity.
Isaac Newton
Isaac Newton was born in England in 1643. As a young man he went to Trinity College in Cambridge, enrolling first as a student and eventually staying on as a fellow. During this period he developed the first versions of his three laws of motion, including the law of gravity. During his career, he also made significant advances in the field of optics and the understanding of centrifugal force. He eventually became the first English scientist to be knighted for his work.
The Discovery of Gravity
A popular story says that Newton came up with the theory of gravity instantly, when an apple fell from a tree and hit him on the head. There was probably a little more thought involved, though. For example, he may have noticed that the apple accelerated from a resting position as it fell, and that to accelerate, an object must have a force applied to it. In this situation, there was clearly an unknown force at play, and that force is what Newton called gravity.
The Importance of Gravity
Gravity pulls falling objects to the ground, but people already knew intuitively that something like that was going on. The really groundbreaking thing about the law of gravity was that it applied to objects of all sizes, stating that the more mass an object had, the more it attracted other objects. At the time of Newton's discovery, people didn't have much of an idea of how the orbits of moons and planets worked. The new discovery explained a lot about that, in particular why orbiting objects don't just fly off into space.
More Discoveries About Gravity
Although Newton was the first to study the force of gravity, there were some holes in his initial theories that have been discovered and improved upon by later scientists. For example, Einstein's theory of relativity describes the way that even the path of light warps when traveling near extremely massive objects. Einstein further theorized that gravity itself is created by a sort of warping of time and space. Still, despite this more recent tweaking, Newton's original theory explains a great deal of the behavior of objects throughout the universe.